Long Branch to staff Ocean Twp pool in exchange for water testing services
LONG BRANCH – At the Council Meeting on February 23rd, the Long Branch City Council passed a resolution for a shared services agreement between the City of Long Branch and the Township of Ocean.
This agreement is for the City to staff the Township pool in terms of providing lifeguards, supervisors, certification and training. In return, the City will gain the service of testing and balancing water chemistry for state testing, on-call water quality emergencies, pool maintenance training and opening the pool at the beginning of the summer and closing it properly at the end of the summer. The respective towns will still be owning and operating their pools on a daily basis. This shared service is limited to these terms.
"Ocean Township approached me last year asking for help with providing lifeguards to them. In the same conversation, I found out that they are qualified to do all the water testing that we paid a company to do last year. By going into a shared services agreement, the City will not only save money but will make money too. Both towns gain something from this agreement, benefiting all residents," Director Stan Dziuba said.
The term of the shared service will be for the summer season beginning Memorial Day Weekend and ending Labor Day Weekend. There is an option for second season.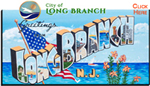 Ocean Township will pay Long Branch $155,000 for the first season with a 2% increase if the agreement is picked up for a second year. Long Branch will profit more than $50,000 from this agreement.
"This shared service agreement allows both towns to help each other. We have a great Junior Lifeguard program that sparks interest in young residents to become a lifeguard and later work for our beaches or pool. We are happy to help Ocean Township, in return for a service that is needed to have safe water in our pool," Mayor John Pallone said.