(Published: Volume 11, Issue 31)
Last week the Blue Devils of Shore Regional hosted the
Bulldogs of Rumson-Fair Haven in a Shore Conference Class A Central girl's
lacrosse game. The two teams have been battling each other for years as the top
squad in the Shore Conference.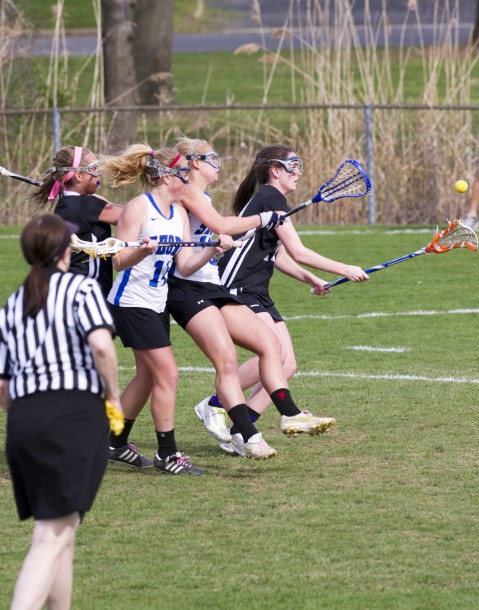 Shore was coming off an opening season loss to Red Bank Catholic, and the start
of the first half with Rumson-Fair Haven was not looking promising. The
Bulldogs took an 8-3 first half lead on the Devils, who are coached by Chris
Raichle, who is in his fourteenth season.
The last few years both schools have fought hard for the top position in the
Shore Conference, with the Bulldogs winning the regular season games, but the
Devils taking the trophy tournament games. "This was one of our better
comebacks," said Raichle after the Devils defeated Rumson-Fair Haven 11-10 last
Thursday. "We could have folded after being down six goals, but we kept our
heads up and didn't give up."
That win, was the first of the season for Shore, and it was also the first time
since 2009 that the Blue Devils have beaten the Bulldogs in a regular season
game. During the second half of action the Devls went on a 6-0 scoring run over
a 13 minute period.
It was a back and forth game during the closing minutes, and with less than one
minute to play in the game and Shore winning by two goals, the Bulldogs scored
with .55 seconds left. But it was not enough, as Shore held on for the one
point victory.
Chelsey Henderson, a senior midfielder, led all Blue Devils with four goals,
and two assists. One of those goals was also a milestone in her high school
career, as Henderson now joins an elite group of skilled players who have
scored 100 goals.
Molly Arnette, a senior attacker, had three goals, and teammates Nikki
DeSecenza, a sophomore, had two goals, and Alyson Chwatek and Claudia LaMara,
each scored a single goal. In the cage for the Devils was Taylor Caldwell, a
junior. She had six saves on 16 shots fired at her.

More photos of this game can be viewed at www.sportshotswlb.com