One of the fastest growing sports in the state is boys lacrosse. The game is played differently from the longer established girls program, allowing much more physical contact and playing quarters instead of half's.

Shore Regional High School is one of the schools that have entered the boys lacrosse program recently, and is also making it a pay-to-play sport. This is a new way that districts are able to keep or add sports by allowing those who want to participate to pick up the costs associated with the program.
In his third season as the Blue Devils head coach is Gregg Malfa, whose squad finished 8-9 during their sophomore year of play. The Blue Devils play in the Class A Central division of the ShoreConference and were the preseason pick to finish seventh out of the nine teams.
The team picked to finish in eighth was the Bengals of Barnegat, coached by Ryan Dalon, who is in his seventh season. His team is desperately hoping to improve upon the 1-17 record of last season.
The Bengals traveled to West Long Branch on April 11, to face the Blue Devils.

Shore took a 3-0 lead in the first quarter and was held scoreless in the second, but Barnegat was able to put two points on the board. The third quarter had the visiting Bengals taking a 3-2 advantage over the Blue Devils.

Going into the final quarter of action the score was deadlocked at five goals each. Barnegat was able to score three goals and held the Devils
to two, taking the 8-7 win and improving to 4-2 overall and 3-0 in division action.

Kyle Gironda, a junior attackman at Shore, and his fellow junior midfielder teammate Jack Kelly, each scored two goals for the Blue Devils. Nick Scherzinger, Mark Costantino and John Junquiera each had a goal for the Blue Devils.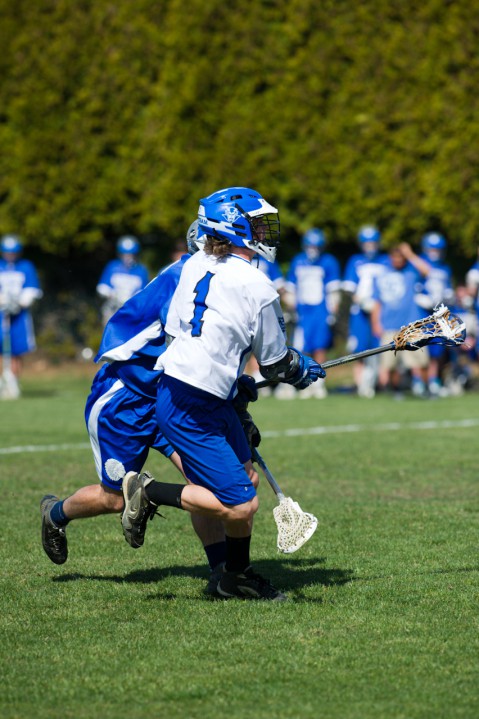 Photo: Sportshotswlb.com
Ryan Lytham (#1) Shore Regional HS