Unofficially: The Link News learned that over 60 members of a specialized unit of the U.S. Army conducted an exercise in what is known as the "Scott Towers" located on South Bath Ave and Ocean Blvd.
Several Black Hawk Helicopters along with U.S. Army Bell helicopters swooped down into the parking lot dropping off and pick-up soldiers. They also hovered over the eight story abandoned building with soldiers repelling onto the roof top.
It was an impressive sight, many residents of the area who were pre-notified of the training exercise, were shocked as the massive black helicopters flew overhead. Muzzle flashes could be seen in the windows of the towers and loud explosions were also heard.
Long Branch Police and firefighters were on stand-by as the U.S. Army practiced. One resident stated why they couldn't do this on a weekend when kids did not have school or in the daytime. A soldier, not associated with the drill, told The Link News that our military strikes at night and trains for many different situations, this happened to be an urban warfare drill.
The Link News spoke with someone at the scene who unofficially stated that the U.S. Army plans on conducting this type exercise in 30 different locations throughout the area.
Over the weekend several buildings in the recently abandoned Fort Monmouth were used. As far as the location in Long Branch, several police departments and the State Police have used the towers for active shooter drills.
According to our "unofficially" source, the U.S. Army has had the Long Branch site under satellite surveillance for over two weeks.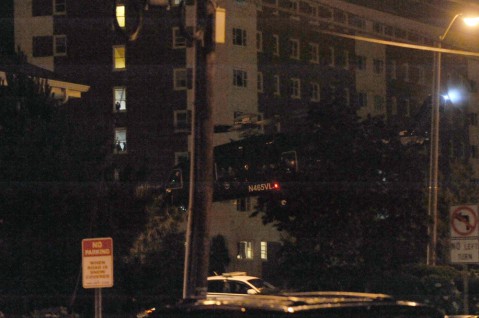 This photo is of a Black Hawk leaving the towers parking lot. In the windows of the towers several of the soldiers can be seen.