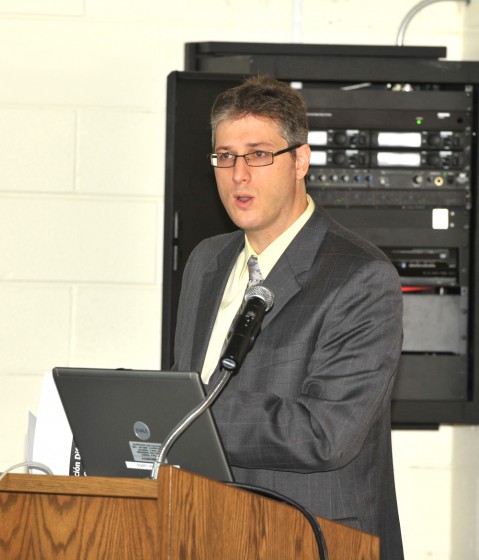 By Neil Schulman
Long Branch — Long Branch Schools Superintendent Michael Salvatore had been expecting a small turnout for the Deferred Action for Dreamers information session on Wednesday morning. The program on the new initiative for undocumented young adults, held in the Long Branch High School library, proved far more popular than he'd anticipated.

"There's more than 300 people up there right now," Salvatore said during the first information session, presented in Spanish. Another session, in Portuguese, was held later in the day.
Deferred Action is the result of an executive order signed by President Barack Obama, providing some young people who are not legally in the United States with a chance to avoid being deported. It is particularly aimed at students, giving them a two-year stay.
Congressman Frank Pallone said that he regarded Deferred Action as "the beginning of what needs to be done" with immigration support. While many in congress support the Dream Act, which would give children who are in the country illegally a chance at citizenship, it still doesn't have enough support to pass, Pallone said.
The Deferred Action plan doesn't have the power to grant citizenship, he noted, an issue for 10-12 million undocumented people. "It' a very limited status, because there still is no good way to citizenship, and we can only pass that by passing the Dream Act," Pallone said.
According to a presentation by Andres Mejer, immigration attorney, there are rules for qualification. It is for people between the ages of 15 and 30, who arrived in the U.S. before they were 16, and have lived here since at least June 15, 2007. They must either have an honorable discharge from the Armed Forces or Coast Guard, or be in school or have graduated high school (or obtained a GED).
There are risks to applying, and people are advised to consult with an attorney before trying. This is especially the case if they have been convicted of a significant crime, or three or more misdemeanors.
The program is temporary, and the president could revoke it at any time. In addition, there is no appeals process if an application is rejected, and deportation proceedings could start in that case.
Because the program just went into effect, the U.S. Citizens and Immigration Services has not decided on a specific form or process, the presentation said, though more information is expected within a few days.
Salvatore said that the schools hosted the workshop to give families an idea of what the Deferred Action plan offers, and the risks it could carry. Many in the school system are potentially affected.
Salvatore said the program can also help families avoid being scammed. The government hasn't set up the details, but many organizations are already offering to help, for a price.
"In the primary grades (pre-kindergarten to second) more than 40 percent come from foreign-born parents," Salvatore said.
That number drops to 30 percent for the higher grades, and it doesn't mean that the students were born in a different country, or that they or their parents are necessarily undocumented.
While foreign-born children are eligible to go through the school system, many other avenues are closed to them, Salvatore said. "The idea today is to support legislation attempting to provide children opportunities beyond public education," he said. He said he wasn't out to promote any particular business, but to "educate parents about the pitfalls, the opportunities and the criteria." "The only way to improve our community is to educate people about opportunities," Salvatore said. "It means building people up, without holding them back."