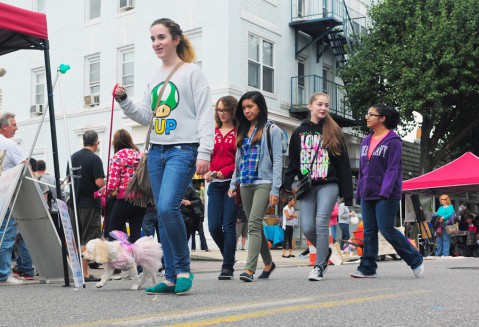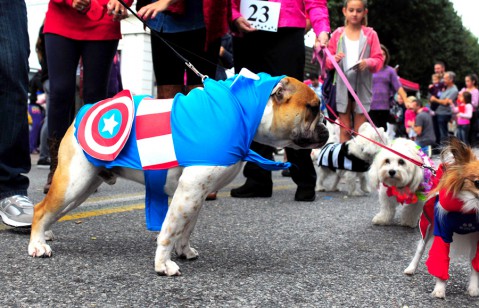 The 4th Annual Long Branch Block Party and Pooch Parade was held last weekend in West End with over 30 dogs marching in their favorite Halloween costumes.
The event, sponsored by the Greater Long Branch Chamber of Commerce, Monmouth Medical Center, the City of Long Branch, and 95.9 FM the WRAT, was a full day of fun for everyone.
The dogs paraded down Brighton Ave. by fans making their way to the West End Park gazebo where judges Joan Tundridge, Jamie Plantamura,  Apryl the WRAT Rock Girl and Lynn Blaisdell rated them for first, second and third places.
A $100 cash first prize went to  Chihuahua Chido Bandito, who donned a black mustache, poncho and sombrero. His proud owner was Rene Martin of Long Branch.
A $50 gift certificate to Vanity Fur Grooming Salon went to golden retriever Beka dressed as a pink butterfly led around by Marie Faillici of Long Branch.
Third place went to Pinky who was dressed as a cow. Pinky and her owner Ana Nicosid from Middletown won $25 to Delicious Orchards.
Money raised from the parade entrants went to Wag On Inn Rescue in Oakhurst
There was plenty to do before and after the parade as Brighton Avenue was blocked off and made way for  face painting, pumpkin painting, inflatable bouncy rides and "Touch a Truck" where children could sit in a larger-than-life city vehicle which they normally only ogle from afar. There were also supplies to build your own scarecrow supplied by Central Jersey Bank.