By Walter J. O'Neill, Jr.
West Long Branch — The banquet room at Branches  was nearly filled to capacity on Saturday afternoon for the 68th Annual Freedom Fund Luncheon sponsored by the Greater Long Branch Chapter of the NAACP. This year the mantra was "We can make a change" and those being recognized certainly have.
"On behalf of the officers and members of the NAACP of Greater Long Branch, I would like to take this opportunity to thank the various corporations, organizations and the many individuals who contributed to this event," said Theresa L. Dangler, Banquet Chair. The Greater Long Branch Chapter of the NAACP used proceeds from advertisements in the published journal to award scholarships to several students and honor community members.
The keynote speaker was supposed to be a former governor, but turned out to be the first Lieutenant Governor in the history of New Jersey, Kim Guadagno  of Monmouth Beach.  She was able to clear some time in her busy schedule to attend the luncheon.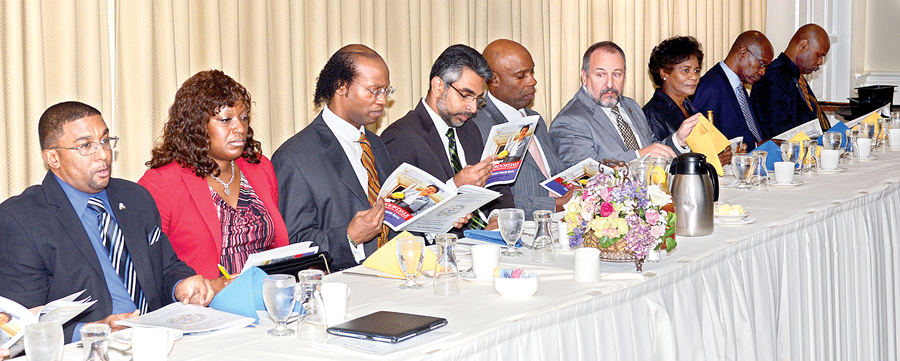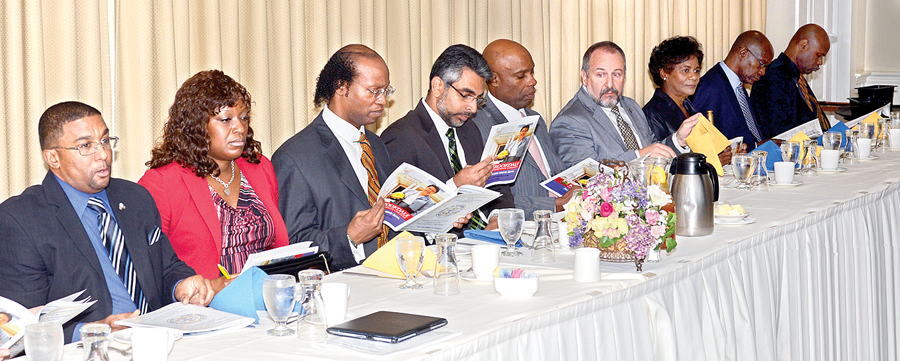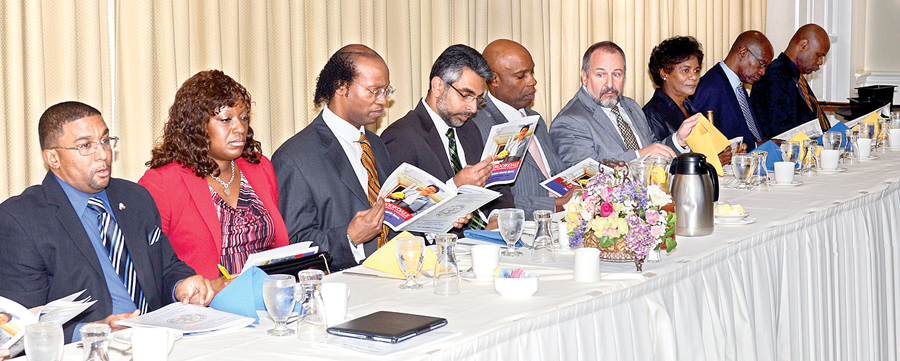 Unfortunately, Governor Jim McGreevey, the scheduled keynote speaker, was unable to attend as his personal residence suffered damage as a result of Hurricane Sandy. Lorenzo "Bill" Dangler, President of the Greater Long Branch Chapter of the NAACP, praised McGreevy for stepping up and "doing the right thing" over ten years ago, when he was Governor .
At that time the Acting Chief of Police in Keansburg had used a racial slur when describing three African American young men standing on a corner. "After receiving a letter from the NAACP of Greater Long Branch, Asbury Park/Neptune Branch, Governor McGreevey extended an invitation to come to his home to sit down to have an open dialog," said Dangler. "Well about an hour after the meeting with the Governor, the problem was resolved and the chief was out."
Guadagno spoke to the large audience about the actions taken by Governor Chris Christie and his staff in regards to Hurricane Sandy and the mass destruction state wide. Many people are confused on what to do, who to call or how to get action taken, but the Lt. Governor had a simple answer. "Bill Dangler has my direct line. Call Bill and he will pass that request right on to me in Trenton," said Guadagno.
The large crowd had gathered at Branches to recognize local honorees for their service to the community.
Jeffrey A. Hughes Sr., grew up in Asbury Park and currently lives in Neptune. He is described as a good role model, a good friend, and a person that still believes in old school family values.
Hughes started his career in law enforcement in 1992, when he was hired by the Asbury Park Police Department. Six years later he was promoted to patrol sergeant, one year later he left Asbury for a position with the Monmouth County Prosecutor's Office. In 2003, he was promoted to detective sergeant.
Kathryn Hamlin was born and raised in Long Branch. Recently she and her husband, Jerome celebrated their 50th wedding anniversary. She is the proud mother of two sons, and four grandchildren. For 17 years she worked for Clinique, and then seven years with the Long Branch Board of Education.
"My current status is my love for children and making a difference with them as Vice President of KJ 525 Philanthropy Club," said Hamlin. "I am also Vice President of my husband's company JK Hamlin Consultants, where I assist him with programs for schools, churches, community-based programs and private corporations."
Geoffrey Bakelum is the Operations Vice President at Sodexo. His responsibilities are for the Mid Atlantic and South Eastern School Services divisions. Before joining Sodexo, Bakelum worked for Marriott Host Group, and several independently owned restaurants.
Currently Bakelum leads a team of 118 managers and over 3,283 non-salaried staff to provide exceptional nutrition comprehensive service solutions to every customer of the company. His greatest strengths are his leadership skills and determination. He has also won several prestigious awards; Presidents Club for Top Food Services District Manager, Champion of Diversity Award, and Inner Circle Award Silver and Platinum Level.
Peter E. Genovese III, is the School Business Administrator and Board Secretary for the Long Branch Board of Education. He is described as a Christian family man first and foremost. Genovese and his wife Dana have been happily married for 17 years. Together they have five children.
Genovese is a graduate of the University of Scranton where he received a degree in computer science. He also served as an active duty member in the Army as a field artillery officer. He later obtained the rank of Captain while in the reserves.
His educational expertise in finance was a key factor in the State Department of Education, serving for nearly three years as the Assistant Commissioner of Education and a Special Assistant to the Commissioner.  His commitment to duty and integrity is noteworthy, as is the hard work he conducts daily to insure the children of Long Branch have every resource needed to succeed.
David G. Brown, II., is currently the Borough Administrator for Roselle in Union County, which has a population of 22,000 people in just 2.6 square miles. He oversees a $36 million budget with 160-full time employees and 215 seasonal workers. In his role he is responsible for all day-to-day operations for the mayor and council of Roselle.
Before going to Roselle, Brown was the Director of the Department of Public Works and Urban Development in the City of Plainfield. He also served as the Vice President of Real Estate Development for the Newark Downtown Core Redevelopment Corporation.
Brown holds a Registered Public Purchasing Official Certification from Rutgers University and Government Purchasing Association of New Jersey. He recently became an Adjunct Professor at Kean University teaching in the area of public administration.  He is a lifelong resident of Long Branch and is married to Tasha Youngblood Brown and together they have three children.
Donald "Coach" Covin, also widely known as "Cove," was also recognized by the NAACP. He is a born-and-raised son of Long Branch as one of nine children to Lonzy and Ella Covin. He is a parent himself, having one daughter.
After graduating from LBHS he earned his Bachelor of Science in Industrial Technology from Trenton State College. He continued with his higher degrees earning a Master's in Urban Education Administration and Supervision from Jersey State College. His goal was to give back to his community and return and help teach, guide and mentor the youth of Long Branch.
He achieved his goal as he returned as a teacher, coach and administrator for Long Branch Public Schools. As a coach he led the boys' basketball team and girls' track team to state championships. His own personal achievements include All-Conference, All-Shore, and All-County as a Green Wave football player, and an All-American in Division III football while attending Trenton State College.
From coaching to the classroom, Covin focus has always remained on fundamentals and accountability. "To succeed in any area of our lives we need to remove our self-imposed barriers to move forward," said Covin. "Success is a choice! You need to develop your ability to think creatively and to become proactive in how you manage your life."
Covin is also a member of the Big Brother Program, Kappa Alpha Psi Fraternity, Governor's appointed commission of the Long Branch Housing Authority, President and Co-founder of F.I.S.T., LLC., (Future Is Starting Today) a youth mentoring program.