(FREEHOLD) A new state-of-the-art building to house the Monmouth County Prosecutor's Office officially opened with the Prosecutor and County Freeholders cutting of the time-honored ribbon Thursday morning.
"This new building brings all the components of the Office under one roof for the first time in our modern history thanks to the generosity of the Monmouth County Freeholders and an attention to detail that makes this building the best of any prosecutor's office in the state," said Acting Monmouth County Prosecutor Christopher J. Gramiccioni.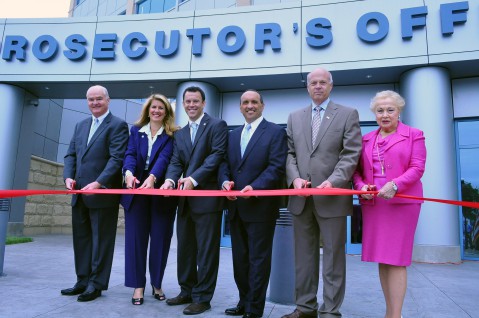 "We must be prepared for the future and this investment in the Prosecutor's Office prepares us for crime-fighting for many years to come," said Monmouth County Freeholder Director Thomas A. Arnone.
The new four-story 128,720 sq. ft. office building features environmentally friendly green technology such as lights that turn themselves off, window technology to keep the building cooler in the summer heat, and an environmental system that regulates the cool air of autumn and spring to filter into the building allowing the cooler air of the seasons to cut costs and keep everyone inside comfortable.
"This beautiful building is great example of our commitment to cost-savings and sound environmental designs," said Freeholder Lillian G. Burry.
The building has 114 offices, with almost all of those offices featuring a beautiful window view, 242 cubicles for Office support staff, a comfortable and friendly environment for victims and witnesses, private interview rooms, conference rooms, as well as comfortable work spaces with coffee stations and break rooms.
Construction continues on the Jerseyville Avenue site as a new forensics lab, forensic vehicle examination bays, county-wide evidence vault, processing and holding areas, an operability range and additional meeting space is expected to come on-line before the end of the year.
"We can't thank the Freeholders enough for their dedication to fund this project, and we need to recognize Sonnenfeld & Trocchia Architects for their imagination to come up with the ideas; APS Construction for their know-how to construct this incredible building; and Torcon for keeping it all organized – together your hard work has led us here today," Gramiccioni said.