By Patty Booth O'Neill
Long Branch — "This is a quiet neighborhood. This had nothing to do with gangs," insisted cousins of Adrian Anderson, who was shot as he sat on the front porch of a relative's home on Liberty Street, Saturday at 2:30 a.m. Anderson was taken to Jersey Shore Medical Center in Neptune where he was pronounced dead two hours later.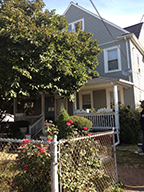 Anderson, 23,  the father of two girls, lived on Joline Ave., but was visiting relatives at their home on Liberty Street.
On Wednesday morning family members sat on that same front porch, still appearing a little dazed, silent, just sharing common space for comfort.
"It's very quiet here and you can usually hear birds singing," Long Branch resident Thomas Stovall said, sitting on the Liberty Street front porch. "They're not singing today."
While the Monmouth County Prosecutor's Office, in charge of the investigation, has not released details on suspects in the case, others who knew Anderson say he had recently been in a fight with a young man in front of the Liberty Street house and the other guy lost. It is thought that male or his friend came back and shot Anderson in the back.
While the possibility this was a gang issue has been brought up, officials and Anderson's relatives say they don't think the case is gang related.
"I don't think this is gang related," said Bill Dangler, President of the Greater Long Branch Chapter of the NAACP. "That is to say  I don't believe it was a fight between two gangs over territory or any other issue." He said that he did not believe Anderson was in a gang.
Whether the shooter is in a gang or not, is still unknown, but all who knew Adrian agree that he was a quiet person who would always try and help others. He was employed at Monmouth Race Track and was described as a hard worker.
"Hopefully it will bring more police to the neighborhood," Dangler said. He added that the police are working hard and are out there doing as much as they can. "But it's a shame. This never should have happened," Dangler said.
"This is very distressing," said Long Branch Mayor Adam Schneider, who also did not think the shooting was gang related. He said that there is crime everywhere in America, and that guns are too easily accessible.
"This is an incident that started out as an argument and became a fist fight. Because guns are so easy to get in America it escalated to murder."
Schneider cited the shootings in Washington, D.C., the school in Newton, Conn. and the movie theater in Colorado.
"None of that would have happened if guns weren't so easy to get," he said. He said that when a stricter gun law goes to Washington the NRA rallies and gets it squashed.
"A gun bill can't get through Congress," he said.
"Long Branch detectives are working on the case and following up leads," Long Branch Public Safety Director Jason Roebuck said. Any other comments about the case have to come from the Monmouth County Prosecutor's Office.
The Prosecutor's Office asks that anyone with information related to the shooting to call Detective Andrea Tozzi at 1-800-533-7443 or Todd Coleman at the Long Branch Police Department at 732-222-1000.
Anyone interested in submitting an anonymous tip can call the Monmouth County Crime Stoppers at 1-800-671-4400.