By Walter J. O'Neill, Jr.
Long Branch – Wednesday afternoon the quick actions of two police officers resulted in the arrest of two suspects on multiple charges including allegedly firing a gun.
According to Jason Roebuck, Public Safety Director, Officer Joseph Spitale was in the parking lot of the police headquarters and municipal complex when he and another officer heard a gunshot in the area of Lippincott Avenue, which is across the street from City Hall and Police Headquarters.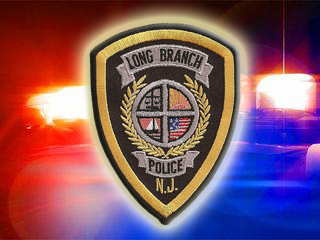 "Officer Spitale immediately responded to the area and observed a black Corvette leaving the area at a high rate of speed," said Roebuck. The shots were heard at 4:15 in the afternoon. Spitale stopped the Corvette and conducted a routine document check on the driver and passenger.
"Both occupants were wanted on outstanding warrants," added Roebuck. The driver was identified as Gamaliel Rivera, 42, whose last known address was 9 Hope Lane, Long Branch. "He had a non-support warrant and a suspended license."
The passenger was identified as Pedro Melchor, 25, of 109 Lippincott Avenue, Long Branch. "He also had a non-support warrant, and a contempt of court warrants from Long Branch, West Long Branch and Howell," said Roebuck.
Backup officers Sergant Shamrock, Officers Olski and Samol arrived at the motor vehicle stop and both men were placed under arrest. "During the course of the investigation a small .22 caliber handgun was discovered. Looking closer Spitale discovered a spent round in the chamber," said Roebuck. Police reports also state that an odor of fresh gunpowder was still evident inside the Corvette.
Roebuck stated that Rivera was hit with additional charges of careless driving, possession of a weapon, unlawful possession of a weapon, and certain persons not to have weapons. Monmouth County Superior Court Judge Anthony Mellaci set bail at $250,000 and both suspects were transported to the Monmouth County Correctional Facility in Freehold.
Under New Jersey forfeiture law the police department is entitled to seek possession of a vehicle used in the commission of a crime. If the Corvette was used as a getaway vehicle in a shooting Long Branch Police Department has the right to file papers seeking ownership. When Roebuck was asked if his department was considering that option, he was they were looking into it.