Woman was Found in a Shallow Grave off the Garden State Parkway
(FREEHOLD) An Eatontown man was sentenced Thursday to 27 years in a state prison for killing his estranged wife in May 2011, announced Acting Monmouth County Prosecutor Christopher J. Gramiccioni.
Oscar Prior-Ramirez, 34, of Eatontown, was sentenced to 27 years in prison by Monmouth County Superior Court Judge Richard W. English, J.S.C. The prison term is subject to the provisions of the "No Early Release Act" requiring him to serve 85 percent of the sentence or almost 23 years before becoming eligible for parole. Prior-Ramirez previously pleaded guilty on November 19, 2013 to first-degree Aggravated Manslaughter. Prior-Ramirez' guilty plea was pursuant to a negotiated plea agreement in connection with the killing of his estranged wife, Viridiana Beltran-Gomez, 26, of 52 Bank Street in Red Bank, which was reached after consultation with, and with the approval of, the victim's family.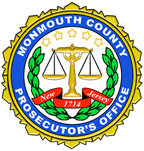 The charges followed an investigation launched after family members reported the young woman missing to the Red Bank Police Department at approximately 6:00 p.m. on Friday, May 13, 2011. Beltran-Gomez, was last seen alive on the evening of Thursday, May 12, 2011 leaving her place of employment at the Siena Grill, located at 141 Shrewsbury Avenue in Red Bank.
Information and evidence obtained during the investigation made it clear Prior-Ramirez was responsible for the death of Beltran-Gomez, who left behind two young sons from the union. Law enforcement officials obtained information that led them to conduct a systematic search for the victim's body on Friday, June 24, 2011, along the shoulder of portions of the Garden State Parkway in Monmouth County. Ultimately, on June 25, 2011, police discovered human remains off of the Garden State Parkway in the area of mile marker 119 in the Aberdeen Township. The body was later confirmed to be that of Beltran-Gomez.
Prior-Ramirez has been in custody in lieu of bail since June 25, 2011, following his arrest. Bail was set by Monmouth County Superior Court Judge Ronald L. Reisner, J.S.C. and remained at $1.5 million.
A Monmouth County Grand Jury handed up an indictment on March 14, 2012, charging Prior-Ramirez with one count of first degree Murder.
Law enforcement authorities involved in the investigation and/or search included the Monmouth County Prosecutor's Office, Red Bank Police Department, Eatontown Police Department, Aberdeen Police Department, New Jersey State Police and Bergen County Sheriff's Department.
The prosecution of this case was assigned to Monmouth County Assistant Prosecutors Christopher J. Decker and Melanie Falco. Prior-Ramirez was represented by J. Michael Wicke, Esquire, of Freehold.