The Link News offers our deepest sympathy to the family of Patrick Gornik, a young man that was known as a gentle giant. Patrick had been fighting cancer for a year and lost his battle on September 12.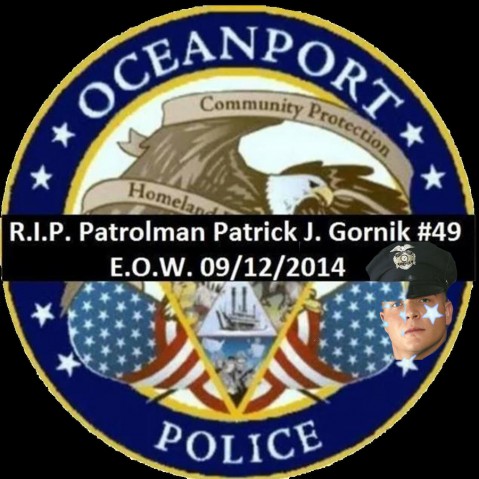 Patrick was a graduate of Shore Regional High School, Class of 2006, where he excelled in sports. His physical stature was impressive standing tall and on a big muscular frame. But with all that size and strength he was really a very sensitive guy.
On Facebook many of his classmates have been posting all their memories of Pat and some of the funny incidents that he was involved in. And scanning the post it is obvious that Pat had many friends while he was in school and those numbers grew after graduation.
January 2013 he was sworn in as a Patrolman with the Oceanport Police Department. Shortly after working in the field he so loved, it was discovered that he had cancer. He bravely battled that horrific disease for a year.
One friend stated that last week he received news from his doctors that it condition was beyond treatment and that they estimated he had two weeks to live. That night Pat called his friends and went out and celebrated, he was upbeat and happy said that friend.
When others found out about his condition, a celebration of life party was organized for September 13, and it was held at the Port-Au-Peck Fire House. The original plans called for Pat to be in attendance and it said no tears, just beers.
Unfortunately, Pat didn't make the party. But his spirit was alive and well and tears were flowing, as it is always difficult when a young person leaves us.
John E. Day Funeral Home in Red Bank will be handling the service. Tuesday, September 16, a viewing will be held from 2-4 and 7-9. The funeral will be on Wednesday starting at 10:30 a.m. at Days Funeral Hume with a procession to Woodbine Cemetery in Oceanport.