Iselin Man Shot Once in the Abdomen after Grabbing for Officer's Weapon
(FREEHOLD) An Asbury Park police officer was injured during an altercation with a knife-wielding Middlesex County man who was shot by a second officer as they attempted to subdue him and he grabbed at the officer's weapon, announced Acting Monmouth County Prosecutor Christopher J. Gramiccioni.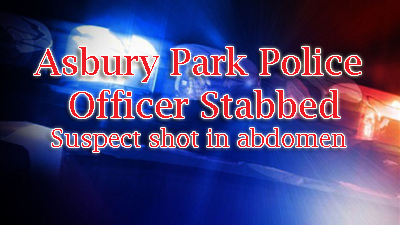 Asbury Park Police Officer Carl Christie was stabbed in the torso but the knife was prevented from puncturing the officer's abdomen by his bullet-proof vest. The officer received lacerations on his right wrist and a finger.
The incident occurred after Officer Christie responded around 9:20 a.m., Monday, Sept. 29, 2014, to a report of a disorderly man outside 619 Main Street, in Asbury Park. Oswaldo Torres Quiroz, 22, a Mexican national living at 97 Fiume St., in the Iselin section of Woodbridge Township, was brandishing an 8-10-inch steak knife when Officer Christie and Police Officer Johnny Washington arrived on scene. The Officers were immediately confronted by Torres Quiroz. A third officer, Police Officer Anthony Butler, arrived on scene to assist. A struggle ensued when the officers attempted to disarm Torres Quiroz, who was carelessly swinging the knife resulting in the injuries to Officer Christie. During the struggle Torres Quiroz attempted to grab Officer Washington's weapon. Washington discharged his weapon, a Glock .40-caliber pistol, striking Torres Quiroz in the abdomen.
Officer Christie, a 23-year veteran police office who has been with the Asbury Park Police Department for the past 15 years, was taken to a local hospital where he was treated for lacerations to his right wrist and a finger. He was later released.
Officer Washington, a 15-year Asbury Park Police Department veteran, was taken to the hospital with respiratory problems and was later released.
Officer Butler was not injured.
Torres Quiroz is listed in stable condition following surgery at a local hospital.
Torres Quiroz has been charged with first degree Attempted Murder, second degree Attempting to Disarm a Law Enforcement Officer, third degree Resisting Arrest, third degree Possession of a Weapon for an Unlawful Purpose, fourth degree Unlawful Possession of a Weapon, and fourth degree Possession of a Prohibited Weapon.
Torres Quiroz is being held on $735,000 bail with no option to post ten percent, as set by Monmouth County Superior Court Judge Honora O'Brien Kilgallen.
Judge Kilgallen also ordered Torres Quiroz can not return to the scene of the crime, and cannot have contact with his victims.
If convicted of Attempted Murder, Torres Quiroz faces a sentence of 20 years in a New Jersey state prison, subject to the provisions of the "No Early Release Act" (NERA) requiring him to serve 85 percent of the sentence imposed before becoming eligible for release on parole. He would also be under parole supervision for five years following his release from state prison.
If convicted of Attempting to Disarm a Law Enforcement Officer, Torres Quiroz faces a sentence of five to ten years in prison.
If convicted of the third degree offenses, Torres Quiroz faces three to five years in a state prison.
If convicted of the fourth degree offenses, he faces up to 18 months in state prison.
Anyone with any information about this incident is urged to call Detective Rosendo Perez or Detective Ryan Muller, both of the Monmouth County Prosecutor's Office, at 1-800-533-7443.
Despite these charges, every defendant is presumed innocent, unless and until found guilty beyond a reasonable doubt, following a trial at which the defendant has all of the trial rights guaranteed by the U.S. Constitution and State law.
The case is assigned to Monmouth County Assistant Prosecutors Thomas Huth, Director of the Office's Major Crimes Bureau, and Jacqueline Seely, Director of the Office's Professional Responsibility and Bias Crime Bureau.