By Coleen Burnett
Dan Lauria is enjoying his time at the Jersey Shore.
The actor is perhaps best known for his role as the crusty-but-loving dad Jack Arnold on the hit ABC-TV series "The Wonder Years" from 1988 to 1993. He's also won raves on Broadway, portraying the great NFL coach Vince Lombardi in the hit play of the same name, and also as the late humorist Jean Shepard in "A Christmas Story: The Musical." Or maybe you've seen him on the big screen, with roles in such popular movies such as "Independence Day."
And, he just finished his third season on the TBS sitcom, "Sullivan and Son."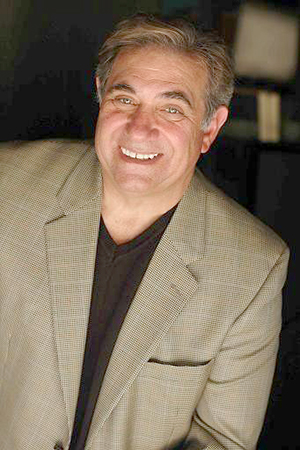 Versatility is the mark of any good actor, for sure. But did you know he can write?
That's what has brought him to the Long Branch. A play he penned (and stars in), "Dinner With The Boys" is had its world premiere at the New Jersey Repertory Theatre on Broadway in Long Branch. The production has been so popular that it has been extended through October 12.
Actually, the idea that he can write a play — and get it mounted into an actual production — is not that far out of reach. Lauria has an MFA in playwriting from Southern Connecticut State University, and loves to put pen to paper when the mood strikes him.
He's well aware of the fact that thousands of plays get written in one form or another every year, and he considers himself lucky to actually get this one produced. He gives a lot of credit to Gabe and SuzAnne Barabas, the executive producers and co-founders of the theatre.
"Our culture is in these new writers, and Gabe and Sue understand", he told The Link. "There's very few theatres that will do new plays."
"Television is filling an editing machine. Theatre you have to create a character."
The production has been about ten years in the making. Originally penned as a vehicle for himself and his actor friends Charles Durning, Peter Falk, Jack Klugman and Dom DeLuise, Lauria plays an aging mobster in the comedy, which now stars Ray Abruzzo (who played "Little Carmine Lupertazzi" in the" Sopranos"), Morris "Moe" Rosenbaum, and Richard Zavaglia.
The actor has been extremely busy with the production — "We haven't been able to get around," he says — but has spent a bit of time enjoying what the area has to offer. He's made stops at McLoone's in Asbury Park, Amy's Omelette House on Ocean Avenue in Long Branch, and raves about the pizza served at Attillio's in West Long Branch.
He also loves the architecture he sees in the old buildings along Broadway. "It's almost like a Hollywood set," he marveled.
TV may pay the bills ("It pays for my theatre habit"), but his true love is pounding the boards.
"The stage is — no matter what is going on in your life — for two hours it all disappears," he said.
In the end, it's all about creativity and giving yourself a new challenge. The actor saw an area west of Pier Village where he says he would love to build a small venue to put on new plays. He figures 300 seats would be the right size.     "Imagine the stars that would come out here," said the veteran actor with a big smile.
For tickets you can call the box office at 732-229-3166 or go to the theatre's website at www. njrep.org.