By Neil Schulman
Sea Bright — By late May, the National Park Service is expected to announce up to six groups who will be developing bed and breakfasts, housing, and non-profit office space at Fort Hancock in Sandy Hook.

At Tuesday's Sea Bright Council meeting, John Harlan Warren of the National Park Service, the external affairs officer for the Fort Hancock 21st Century Advisory Committee, and Sea Bright resident Karolyn Wray, who serves as a real estate expert on the committee, outlined the plan to eventually lease numerous historic buildings at the site for various uses.
Sandy Hook has over 100 historic structures, and can't use all of them, Warren said. In 2013, the committee was formed to examine how the structures might be used, and groupwere asked to send in requests for interest in various properties.
Of the 41 responses, half were for housing or bed and breakfast type facilities on Sandy Hook. The others were from non-profit organizations.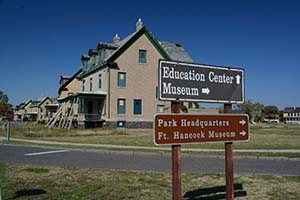 s Rather than trying to renovate all the buildings at once, the park service has decided to begin by issuing six RFPs (Requests for Proposals), two for each of the main uses. Warren said this will serve as a pilot phase, ensuring that the park gets later development right.
"We want to make sure we make our mistakes early. We learn from them," he said.
The RFPs will be due April 17. They will be evaluated by NPS employees who don't work at Sandy Hook (to avoid conflicts of interest), and judged on serveral criteria, including past experience, ability to finance the work, and preservation of the historic features. That process is expected to take five weeks.
Different parts of Fort Hancock will be zoned for different uses. The former officer's housing, for example, will be designated for housing.
Warren said all the buildings are structurally sound, but not necessarily in good condition.
"The insides need a great deal of work," he said.
Because these are historic structures, there are strict guidelines on how they can be fixed up.
Successful bidders will be responsible for the cost of the repairs and rehabilitation, but those expenses will be considered advance payment for rent. Warren says he expects many of them will be rent-free for years to come.
Because Sandy Hook is a park, none of the buildings will be sold, just leased out.
"These are all National Park buildings," owned by the public,
Warren said. "We can't sell your stuff."
Wray said that she has always loved Sandy Hook, but initially had doubts about the project, especially since it was started not too long after Superstorm Sandy. However, those concerns have been resolved, and she sees enormous potential in the area.
"Take a tour and your are thrown back in time," she said.
Development of Fort Hancock can only be good for Sea Bright and the surrounding area. People staying there will need to shop, dine, etc.
"They've got to get food. They've got to go out for lunch and dinner. I think Sea Bright and Highlands are going to reap the benefits," Wray said.
For more information on the project, visit forthancock21stcentury.org.