By Patty Booth O'Neill
Long Branch — It was a senseless act that has city employees and many others asking "why?" Some are wondering what could have been done to stop it and why they didn't see the signs.
Public Safety Director Jason Roebuck said it was a very sad day for the city.
Lyndon Shane Beharry, called Shane by friends, had worked for the City of Long Branch Public Works Department as a mechanic for 16 years starting at the age of 19.
For 16 of those years Beharry worked every day side-by-side with his father, Krishna, 59, who started with the DPW three years after his son.
Apparently late Tuesday night, Beharry killed his girlfriend, two sons, set fire to his house and then killed himself.
Beharry's live-in girlfriend, 29-year-old Amanda Morris, and their two sons, 7-year-old Brandon and 4-year-old Brian, were found by police in one upstairs bedroom and Beharry was in another, when they responded to the fire on Wednesday.
At around midnight a two-alarm fire was reported at Beharry's home at 245 Joline Avenue. According to neighbors, two Long Branch policemen were first on the scene and had trouble getting into the house because of the intensity of the fire. They later had to be treated for smoke inhalation. Firefighters soon arrived and had the flames under control.
Late Wednesday morning officials were still outside Beharry's home surrounded by yellow police tape.
One city official, Director of the Department of Public Works Fred Migliaccio, standing in the road at the scene was visibly shaken by the news.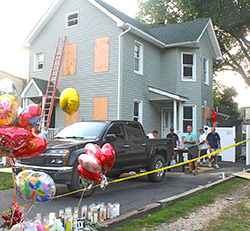 Beharry, as a mechanic, was not just well known to all employees at the DPW, he was also well known to any city employee who operated a city vehicle, including the police and fire departments.
He had many friends in the department and sometimes spoke about his personal problems. But nothing, friends told The Link News, gave them a hint he was headed in this direction.
As of Wednesday morning authorities believed the fire was set by Beharry. Marc LeMieux, First Assistant Monmouth County Prosecutor was at the home early on Wednesday.
"This fire does not appear to be accidental," he said. "We are not ruling out that this was a homicide and potential suicide."
By Thursday morning the Prosecutor's Office had confirmed that  it was a murder suicide.
Upon entering the home, firefighters reportedly found a gas can next to the front door. It seemed as if Beharry poured gasoline in front of the door, up the stairs and also doused the upstairs.
The bodies of the mother and two children were taken out of the house onto the lawn to be administered first aid when blood was reportedly discovered on them. That is when responders found it was more than just smoke and fire-related injuries.
It was reported that Morris was still alive when found, but succumbed to her injuries later at Monmouth Medical Center.
It was reported that Morris was still alive when found, but succumbed to her injuries later at Monmouth Medical Center.
LeMieux did say all four suffered fire-related injuries as well as other injuries. He would not say what the other injuries were.
According to Roebuck, it is not clear at this time if the occupants of the home were killed by gunshot wounds or by the fire.
Fellow workers at DPW said the last few months Shane had been having problems with his live-in girlfriend of 10 years. and was very stressed over it.
Shane had been on vacation for two weeks and due back to work next Tuesday.
Last weekend he and his family went to Florida. A city worker who saw him when he got back said he was in a good mood and had enjoyed his vacation.
One neighbor who lives on the corner of Joline and Branchport avenues said he thought he heard shots at about 12 a.m. "Then I heard sirens," he said. "I grabbed my wife and ran outside to see what was happening. I wanted to make sure it wasn't my house on fire."
There was a couple living in the basement of Beharry's home. The man was in the backyard at the time and noticed the fire. He called 911. The tenant did say he heard popping sounds come from inside the house.
"As far as I know he has lived in that house for about three years," said neighbor Mike Basile.
"I didn't know him, but I have seen his kids playing in the yard." Basile said that police had already asked him if he heard any shots that night. "I told them I didn't hear anything. I'm in here with the air conditioning on."
Basile did say that he heard the call come in over his radio reporting a structure fire on Joline Ave. He said he ran outside to see where and how close to his house the fire was. "I have two small kids. I was afraid," he said.
"Then I saw two policemen trying to break in the front door. They were the first ones on the scene and then the fire trucks showed up. When I ran down the street to the house I saw two little bodies being brought out. That's something I will never get out of my mind," he said.
Then Basile asked the same question every person has asked since the horrible event. "Why kill the kids? Why would he kill his kids?"
Except for a few workers at DPW no one found out what happened until they came to work Wednesday morning.
"We have spent the day in a collective state of shock," said one city worker.
"He was a good guy," said another employee who asked not to be identified. "He was a doting father, he loved his kids. Sometimes he brought them to the garage for a visit."
Beharry had just received a notice in the mail notifying who Brandon's teacher was to be this year. "He was excited, asking if the teacher was good. We told him yes, it was a great teacher to have."
DPW Shop Steward Steve Check was also visibly shaken. "He worked hard, he made himself a top line welder," Check said. "Shane was a happy, fun-loving  jokester, a loving father. His whole world was his kids.
"He will be sorely missed. The men and women of DPW are grieving, heartbroken and shocked that such a tragedy has occurred," he said.
"We are all mourning the loss of our children today," said Superintendent of Schools Mike Salvatore. "While thousands of children are preparing to enter schools tomorrow, (Thursday)  our hearts and prayers will be with the children that didn't have the opportunity."
On the night of the murders Beharry had called up a close friend who works with him at DPW. Apparently his girlfriend had told him she wanted to split up. They called each other on and off on Tuesday then at about 11 p.m., the last time his friend called, Shane told him calmly "everything is fine."
About 15 minutes after that conversation someone called up Beharry's friend telling him, "Shane's house is on fire."