Frank J. Pallone of Long Branch, passed away Sunday, February 7th, surrounded by his family at the Monmouth Medical Center, Long Branch.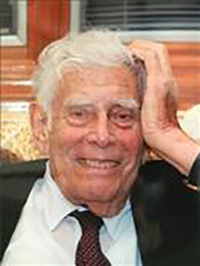 Mr. Pallone was a lifelong resident of Long Branch, a detective police sergeant, a volunteer fireman, and first aid squad member. After his retirement as a police officer he worked for many years as an investigator for the New Jersey Racing Commission and the Department of Law and Public Safety. He and his brother, John Pallone, maintained a used car business and sold Christmas trees for over fifty years in the Uptown section of Long Branch.
During WWII Mr. Pallone served in the Air Force as a tail gunner on reconnaissance planes that flew the Pacific. He was proud of his role as a member of the B-24 Liberator crew featured in the recent best seller, Last to Die
Mr. Pallone was a long time Monmouth County Democratic committeeman. He was an active member of the Long Branch Democratic Party. He served on the Long Branch Board of Education for several terms including a time as the vice president. He worked on all his son Frank's campaigns for Congress and his son John's campaigns for City Council.
He was a loving father and grandfather, whose greatest pleasure was spending time with his grandchildren.
Mr. Pallone was predeceased by his wife, Marian Pallone, and his brothers John and Carmine Pallone.
Surviving are his two sons and daughters-in-law, Congressman Frank and Sarah Pallone, Long Branch Councilman John and Svetlana Pallone, and his four loving grandchildren, Rose Marie, Frank Andrew, Celeste Theresa, and John Thomas Pallone; a sister and brother in law, Mary and Gerard Viracola, Shrewsbury. And his loving nieces and nephews.
Visitation will be Thursday, Feb. 11th 1-4 & 6-9 PM at Woolley-Boglioli Funeral Home, 10 Morrell St, Long Branch. A mass of Christian Burial will be celebrated Friday, Feb. 12th 10:00 AM at Holy Trinity RC Church, Long Branch. Interment will follow at Woodbine Cemetery, 14 Maple Ave, Oceanport. Those wishing to remember Mr. Pallone may make contributions to The Long Branch First Aid Squad, 134 Belmont Avenue, Long Branch, NJ 07740, or to the Holy Name Society at Christ the King Parish, 380 Division St, Long Branch, NJ 07740. To share a favorite memory of Mr. Pallone please visit his Book of Memories page at www.woolleyboglioli.com – See more at: http://www.legacy.com/obituaries/app/obituary.aspx?n=frank-pallone&pid=177634598&fhid=27014&f=portal#sthash.XICFMZvX.dpuf