By Jim Jennings
Yes, Long Branch is my Hometown. I wasn't born here, but I came in a bassinet with my family. That was more than 90 years ago. I want to tell you about the Long Branch I remember.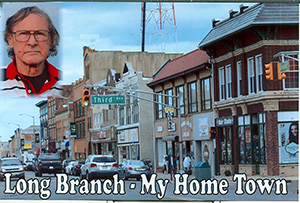 The kids of today wouldn't like it very much; there was no school bus, no TV or video games and certainly no cell phones. Women wouldn't like it at all. There was no refrigerator and freezer, dishwasher, microwave and none of the other appliances that every woman has today, and here is the really one appliance she absolutely could not do without – the clothes washer. Before that, it was the Scrub Board. It's unbelievable but true, the fully automatic cloth washer and spin dryer wasn't invented until about 1950. It was that one appliance that set the housewife free and gave her, her freedom and independence.
As for the husband, if he had a job, he worked long hours for little pay and no benefits, and the work week was six days, not five.
Still, in spite of all that, there is plenty of sentiment for recalling life as it was, in the "Good Old Days." You know, it's not the good times, but the bad and hard times that mold men and women and make them strong.
Long Branch was a dynamic city, a go-to city with shops, stores, factories, coal yards, gas stations, and commerce of every kind, all over town. It's ironic that today in this town where a man can't buy a shirt or tie, or a women, a dress, back then, they would have had a choice of more then six shops to make their purchase. Unlike today, people who lived in town worked in town.
On Willow Ave., there was McCue's Dairy, the largest dairy in Monmouth County. On Prospect Ave., Baldanza's Bakery, with more than 20 trucks on the road every day delivering Italian bread, Kay Dunhill, on Westwood Ave., a busy clothing factory shipping dresses to New York by the truck load. On Fifth Ave., Tomas Proctor Contractor, with their cranes, bulldozers and heavy duty equipment, employed a lot of men.
Those companies were a real asset to the city. On the boardwalk, men, women and kids were working too, selling hot dogs, soda, and such. Police officers, on foot could always be found around the Pier area – It would only be natural to mix and engage in conversation with them, you would know them and he would know you.
Downtown Broadway was the heart of the business district. That's where all the action was and that's where I started working. It wasn't a real job, I was just a kid, 13 years old. I'll tell you how it happened. I knew a man who worked at Stamelman's Fruit and Vegetable Market, and he suggested, if I came down to the store, I might be able to make some money, not dollars, but some change. None of the fruit or vegetables were prepackaged, so when a woman went shopping, she would end up with more bags then she could handle. The clerk who waited on her would call me to help her get the bags to her car. Believe me, some of those women couldn't have handled those heavy bags by themselves. The women were happy for my help and of course their tip was my reward.
Mr. Stamelman's store was not big, but he employed 4 or 5 men, besides himself to wait on the customers. Remember, there were no self-service stores in those days. I found plenty to do around the store, like keeping the floor clean, sweeping the sidewalk, putting the garbage out and just making myself useful and helpful.
I guess I did a good job, because, Mr. Stamelman gave me some money too. Now here's a twist! Even though I was only 13, there was never a thought of my getting hurt or liability or anybody suing or anything like that, that kind of thing was never on anyone's mind. In fact, I knew two lawyers, who had to seek other careers because there was not enough business for them to make a living.
* * *
I want to give you an overview of Broadway. The street is the same, but many of the old buildings are missing. From Ocean Ave. all the way to West Long Branch, store after store, selling everything needed for home or office, along with doctors' and lawyers' offices, banks, a coal and lumber yard, two movie houses, two hotels, our own City Hall, a variety of churches and even some private homes, and building after building, all lined up next to each other, and not an empty store in sight.
And did you realize that every new car dealer was located on Broadway too? Cadillac, Chevrolet, Ford, Nash Packard, Plymouth, Dodge DeSoto and more  — can you believe it? Well, it's true. People came from all over to shop and do business in Long Branch. Did I say Long Branch was dynamic? Well, you better believe it.
Now listen to this – the answer to the question, "Where are you going?" would most likely be, "I'm going Downtown." Talk about a destination, well, Broadway was it.
From businessmen to women shopping and kids going to the movies, everyone could be seen there. That's one reason why people knew so many other people, they saw each other all the time. There were so many people on Broadway, a police officer was always stationed at Broadway and Third Ave. to direct traffic and to help people cross the street. I can see him now; he would step out to the center of the street, blow his whistle while raising his arms straight out from his side, with palms facing traffic as a signal to stop, then call out to those waiting on the sidewalk, "Cross." You don't believe it? Well it's true, I've seen it many times.
Early in the morning Broadway would start to come to life and the sights and sounds, at that time would be different from any other time of day. The street cleaners would be sweeping the gutters and shoveling the debris into their carts. In those days, sidewalks were swept from storefront to the gutter and the sweepings were just left there. (This was later changed by city ordinance). The window washers would be washing the windows with a wet brush then squeegee them dry. Every store had this done, before the shoppers arrived.
Hand painted signs would be hung up in grocery store windows advertising weekly specials. Trucks would coming and going, delivering to all the stores. Fresh eggs and milk were delivered every day. Bread from Silvercup, Wonder and Fisher's Bakery trucks (remember?) were brought in. Even the iceman was there.
New York newspapers were dropped off at the news stands. Mr. Stamelman would bring back a swinging load of fresh fruit and vegetables from New York Wholesale Market. All the produce stores extended their display of tomatoes, peppers, eggplants and all kinds of fruit out from the store onto the sidewalk for four or five feet, and all this had to be set-up and done early in the morning.
Others started the day at the Alps with coffee, buns or bagels. Later in the morning Jewelers could be seen unlocking their vaults, and displaying their diamond rings, watchs and pearls in their windows.
Cops were always around on patrol, not in a car, but on foot. Remember those were the old days.
I'd like to ask you a question, "How many cops do you get to meet and how many cops do you know right now?" Probably none, right? Even as a kid, I knew quite a few. The police officers are the same today as they were back then, it's just the times that are different.
Now I want to tell you something else about the cops. It wasn't talked about much, but it was no secret either, sometimes when a guy had just one drink too many, he was given a ride home in a patrol car, courtesy of the Long Branch Police Dept.
The, stores on Broadway, well, I never thought I would be writing about them, or the owners and those who worked there. I thought as a kid, they would be there forever. Funny how time flies.
As for the stores themselves, I think they were all iconic. None of them could be replaced. Every store had their own individuality and identity Those who worked there were there for years, they knew you as well as you knew them.
What store, do you think people remember the most? My guess would be the City Bakery. Mr. Ellenburg was a master baker and perfectionist, Even though he had three or four women working the counter, you would still have to wait to be served. Do you know, you can get his recipe for Coconut Buns on the internet?
I
'm just going to mention a few stores that were important to me, and you fill in with your favorites. Newberrys, it was much more than a 5 & 10¢ store. It was like a small department store, they had all the little things every housewife needed for her home. Every woman in town went there. And they always had goldfish, canaries and sometimes parakeets, small live turtles, chameleons and gerbils for the kids.
Right inside the door was their busy Lunch Counter, managed by Mary, who had a larger than life personality, lifting everyone's spirit. She called everyone "Honey."
Mr. Roberts was the manager and floor walker. He always wore a flower in his lapel. He was a model of what a manager should be.
Fasano's Hardware Store, a one of a kind place, where only Morris knew were anything was. Rockwell Diner, one of my old haunts. The Paramount Theater with their big marquee all lit up with bright lights at night brought hundreds of people to Broadway. Patrons would line up in front of the ornate ticket booth for tickets to see the latest movie with big name Hollywood stars.
That theater had a lot of glitz and glamour. People dressed up to go to the movies and even to go shopping.
At Bauer's Market, where I worked, I think every customer was greeted by name, and given personal service. And that goes for the banks, for Bennett's Drug Store, for Woolley's and all the other stores in town.
Now, I want to talk about the store owners. It never occurred to me that a lot of them were immigrants. I don't think I even knew the word back then. I just thought of them as
Americans, who came from other countries, like my father, who came from England. It never entered my mind that I was a son of an immigrant, but I am.
Being bilingual is nothing new to Long Branch, many of the merchants knew other languages, I just never heard it spoken. The stores and the men who started them, were here long before I was born. I wish I could go back and talk to them, I sure have a lot of questions I'd like to ask.
Why did they settle in Long Branch? I know, by hindsight, why they came, it was not for riches, it was for Freedom and Opportunity. I'm sure they risked everything they had to get started in business, and then worked hard and long to reach "The American Dream." I saw that dream come true for many of them.
Mr. Tanenbaum, he had a grocery store on Seventh Ave. He was rewarded when his son became, Dr. Tanenbaum, and Mr. Stamelman's son, Larry, became a lawyer and later a judge, and my old boss Mr. Werner, who liked to say, "My son Holly is a big lawyer in New York." Everybody worked to give their children an education, so they could have a better life than they had.
* * *
The most important asset our town had was The Long Branch Daily Record, our own newspaper. The Record was the window to everything going on in town. After reading story after story, day after day, and with pictures of all the people who were making the news, you couldn't help but feel you knew them.
Thanks to the Record everyone knew Tommy Marks, our Police Chief, the Mayor and all the Councilmen, John Guire, our Postmaster, Rev. C. P. Williams, and even Yesterdays Protester, Milton Carr.
Yes, you knew them, even if you never met them. We were all connected. And where was the Record office and printing plant located? You guessed it, right on Broadway.
So you see, the environment was very different. We were out of the cars, we walked a lot, we shopped pretty much in the same stores. We saw familiar faces and we all had names.
That's something we don't have today. I shop in the same store for years, and have yet to be greeted by name. I don't know the manager. I don't know the checkout person, and they don't know me. No matter how much I spend after checking out, the best I get is, "Have a nice day." That's something that wouldn't have happen in my time.
I already told you how crowded the sidewalks were on Broadway. Well on Saturdays, they were even more so. That was the busiest day of the week especially in the summer. Cars were parked, head in at an angle, to fit many more cars than today. Cars were bumper to bumper in the street, and the public buses were there to.
Traffic was slow. The police officer would be in the center of the street at Third Ave. directing the cars and helping people to cross over. Cookie, the newspaper boy, was yelling, "Read All About It." Another cop could be seen walking his beat and helping people. All the stores were very busy and faintly in the distance, you could hear the beating of drums, and a commotion coming from Third Ave.
Everybody knew what it was. The noise got louder and louder as they came down Third Ave. and as they made the tum, onto Broadway you could see the Head Majorette, Alice Curitis strutting her stuff, and following close behind, the baton twirlers and cheerleaders and the whole High School Band playing at full blast. That was followed by a half a dozen cars all full of kids celebrating the Football Victory with a cacophony of joyous sounds of horns blowing, cheering and shouts of, 'We Won, We Won." That whole bunch went parading right down Broadway, bring joy and happiness to everyone there.
I say, that's when Long Branch was at its very finest — and that's the period of time that defines "My Home Town."
Now I don't know about you, but I don't have to go out west to find a "Ghost Town", for me, it'sright here in Long Branch.