By Patty Booth O'Neill
Long Branch — Over 100 volunteers showed up last Saturday to plant 10,000 sea grass plants on the beach from Brighton Ave. in West End to Pavilion Ave.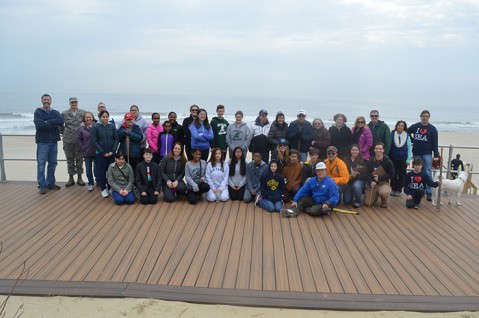 "We are so happy with the turnout today," said Danna Kawut Program/Special Events Coordinator for Long Branch. "Last year it was frigid, and only 20 people showed up. This year the weather helped and so did getting the word out."
Armed with bundles of plants and a long broom-handle-like tool to poke eight inch holes in the sand, volunteers from different organizations, such as Long Branch school students, the Monmouth University Surf Club, families, Boy Scouts, Surfers Environmental Alliance (SEA) and the City's Environmental Commission, prepared to hit the sand.
"We could not have done this without help from the city. They supported us in every way," said Richard Lee, Director of Surfers Environmental Alliance. "Adam Schneider was behind us and helped every way he could." He emphasized his words by pointing at a city dune buggy buzzing along the beach filled with dune grass plants.
Lee spoke to the crowd on the proper way to plant sea grass and sent everyone on their way, estimating it would take about three hours to finish the task. "Usually it takes a lot longer. I'm just so happy and thankful for the turnout," he said.