No clowning around. Fifteen of the most acclaimed, accomplished, award-winning clowns, who have been in acts around the globe, will perform at Seashore Day Camp and School's 404 Broadway Campus in Long Branch this Saturday, April 8 at 7p.m. as part of a benefit show called Laughs For The Left Behind.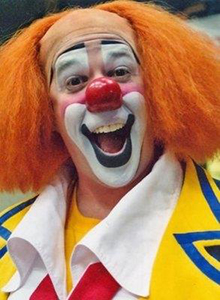 Celebrating the life and career of world renowned clown and Seashore regular Pat Cashin, who passed away last summer, the tribute is being held to benefit his family.
Headlining the event will be actor, clown, comedian and Tony Award winner Bill Irwin, who has appeared on Broadway, Off Broadway, television and film.
This special show also features clowns, who have sommersaulted over elephants at Ringling Brothers and Barnum and Bailey and been in acts with Big Apple Circus, Disney's Epcot Center and venues as far away as Paris, London and Istanbul. It includes ventriloquists, jugglers and balloonists. In addition, it highlights performers, who have won award after award. These entertainers have been nominated for Emmys, have appeared on The Late Show, on The Today Show and in the Blue Man Group. They also have set Guiness World Records, launched clown programs in hospitals and established the non-profit Foundation For Laughter for school children, underserved communities and those who are chronically ill.
The roster includes Irwin, Kevin C. Carr, Joey Klein, Archie Cobblepot, Hilary Chaplain, Greg DeSanto, Mark Glindick, Jeff Gordon, Barry Lubin, Dick Monday, Tiffany Riley, Drew Richardson, Michael Rosman, the Eepybirds, Circus Stella's Rescue Dogs and more.
Tickets are going fast. They can be bought online for $20 for general admission, $50 for VIP seating with gift package or $25 at the door. To purchase, click www.LAF.ticketleap.com/tribute.
"Pat was a local performer, who was world renowned. He never got too famous to come to Seashore and perform. We enjoyed having his kids in our school…his wife was also an alumni," Seashore Director and Principal John Villapiano said. "We could always count on Pat. He played Santa, the Easter bunny and just performed whenever he could. Pat was a great guy, who is greatly missed by the Seashore family and we are glad to participate in his tribute."
Seashore Day Camp and School, in Long Branch, will host Laughter For The Left Behind Saturday, this Saturday, April 8 at 7p.m. to benefit the family of renowned clown and Seashore regular Pat Cashin, who passed away last summer. The tribute will feature Tony winning and Emmy nominated performers, clowns, jugglers and ventriloquists, who have appeared in the USA and abroad. For tickets, visit www.LAF.ticketleap.com/tribute.