By Neil Schulman
Since coming to Long Branch from Ireland in 1996, Darren Davis has done it all – from cook to developer. In addition to two large construction projects in the area, and running the landscaping business Celtic Concepts, he has also recently acquired and renovated the oldest business in the city, John Guire Company.
Davis grew up in Ireland. His father was a professor of agriculture and his mother had a fencing company. He initially worked in the hotel industry.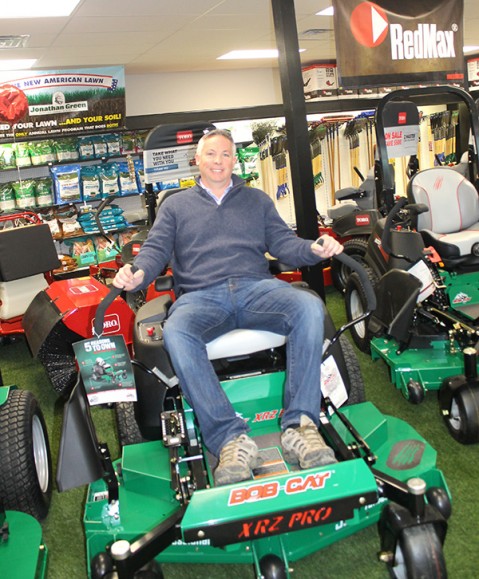 "I was running the largest bar in Ireland by the time I was 20," he said. But he wanted to expand his horizons, and decided to look at working in the U.S.
"I came when I was 21 and I was supposed to work for a year," he said. "I ended up in Long Branch, New Jersey, and never looked back."
And he took all sorts of jobs in the area. He worked at Reddy's, at Tuzzio's, and for some landscapers.
One of the landscapers he was cutting grass for had an opportunity to purchase another business. Davis went in on that, but what he got out of that was "the realization that partners are only for dancing."
He went to New York for a while, but returned to the area, starting the landscaping company Celtic Concepts in 1998, which  incorporated in 2000. A couple of years ago, they expanded, acquiring a new headquarters on Broad Street in Eatontown by renovating a former bank.
He expanded into the construction business, initially making single family homes. Now, DKD Investments is working on several projects in Long . It's received approval for a 46-unit dwelling in the Long Branch
Transit Village near the train station, and is working on approval for a 13-unit project at the former SICA building on Third Avenue.
His most recent business venture, acquiring John Guire Company, has been years in the making. Davis said discussions first took place years ago.
After owner Robert A. Shannon passed away in 2016, discussions continued with Shannon's wife.
"We finally came upon an agreement that was mutually beneficial," Davis said.
John Guire Co. on Brighton Avenue has been renovated and expanded, but continues its basic mission of serving contractors and home owners in the area with bulk landscape materials, power tools, and other supplies.
Davis said keeping the business going was important for many reasons.
"It's the oldest business in Long Branch and we wanted to keep the business intact," Davis said. He was worried that other people who acquired the property might want to turn it down, and build housing there.
Not that there's a problem with building houses, but one of John Guire Co.'s missions is "to also provide goods and services that Long Branch needs to redevelop," Davis said.
"How can you rebuild a town if you don't have goods and services?" he asked. "We realized small businesses thrive on small businesses."
Davis lives in Oceanport with his wife, originally from Fair Haven, and two children.