Students studying introductory algebra at Brookdale Community College will no longer have to buy a traditional textbook.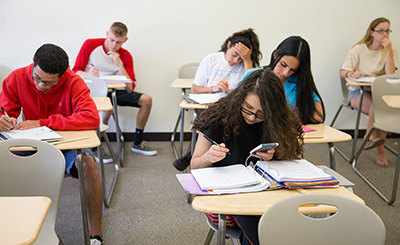 Beginning this fall, all students enrolled in the college's MATH 021 course will be able to download a free copy of a new, digital textbook or purchase a bound copy at Brookdale's bookstore for $11.
The new course, offered as part of a college-wide Open Educational Resources (OER) initiative, could potentially save students more than $100,000 on textbook costs during the 2017-18 school year, said Vice President for Learning Matthew Reed.
"Students tell us that textbook costs can be a real barrier," said Reed. "I'm excited that the math department has stepped up and taken the initiative to get that barrier out of the way. Now every student will be able to have the textbook from day one of the semester."
The initiative was spearheaded by Brookdale math professors Barbara Tozzi and Linda Wang, who were granted sabbaticals in 2016 to research, design and create an OER textbook specifically for the college's MATH 021 course. The professors also worked with faculty and staff to create new supporting materials including instructor guidelines, tests, homework assignments and review sheets.
The OER course was offered on a limited basis this spring and summer as part of a pilot program at Brookdale's locations in Lincroft, Freehold and Hazlet. The program will be expanded to all 44 sections of MATH 021 this fall. Projected annual enrollment for the course is approximately 2000 students.