On Sept. 1, Theodore "Ted" Narozanick passed away at the age of 96. The WW2 veteran was a former Monmouth County Freeholder, the county's first Administrator, and a former mayor of Englishtown.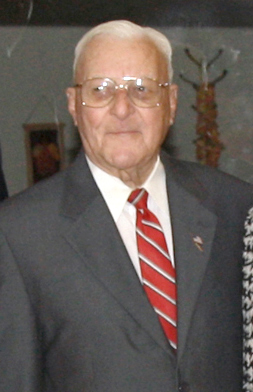 The current Board of Chosen Freeholders issued a statement remembering Narozanick.
"He was a legend, a role model, and a mentor to all who followed in the footsteps he left behind while paving the way for the renaissance of our beautiful county.
"Many of us were lucky enough to call Ted 'friend.' Yet even those who just happened upon him on a street corner, in a restaurant, or at the County Fair would tell you that he treated everyone he met as though he had known them for 50 years. In fact, before there was a Pelé, or a Madonna, or a JLo – there was Ted. No last name needed," the statement read.
Narozanick served in the Army in World War II, where he earned the Bronze Star, and attained the rank of Captain. After returning to his native Englishtown, he served seven years as a councilman; 12 years as mayor; and nine years as a member of the Manalapan-Englishtown Board of Education.
"He stepped into County government as Budget Director in the late 1950's and went on to become our first County Administrator in 1974 – a role he held for a decade before being elected overwhelmingly to his first of six terms as Freeholder in 1985. To this day, he remains the only freeholder to ever carry the 'Freeholder Emeritus' designation," the Freeholders noted.
"Ted brought that passion to the office as well. Throughout his tenure as freeholder, Ted served as liaison to Human Services, Transportation and to Veterans Affairs. In 2001, the State of New Jersey designated Route 33 between Manalapan and Howell as the
Theodore J. Narozanick Highway – a testament to Ted's dogged pursuit of improving the county's infrastructure."
Narozanick received many other awards and honors during his lifetime.
Before retiring in 2006, Narozanick gave an oral history to the Monmouth County Library System, one of 100 Monmouth County citizens asked to contribute to their "Remembering the 20th Century: An Oral History of Monmouth County" project.
"I think meeting the people and seeing  what I can help them with, regardless of their problem. I have no line of demarcation, so to speak, whether they are a Republican, Democrat, Conservative, Independent, or Liberal. It makes no difference to me. If they are county residents and I can help them, that's my responsibility and my job. And that's what I try to do. Not only is it a situation of helping somebody in governmental operations, but in other things," he said in the interview.
In lieu of flowers, memorial donations to the Alzheimer's Association (www.alz.org) would be appreciated.