By Neil Schulman
Long Branch — Soon, all the municipal playgrounds in the city will have at least some handicap-accessible equipment.
On Friday, Mayor Adam Schneider and Public Works Director Stan Dziuba inspected the work being done at West End Park.
Two of the bocce courts have been preserved, but others were removed to make way for the new equipment, which is handicap accessible. All the traditional playground things are there – swings, playsets to climb on, slides, etc.
The padded safety surface is being installed soon. There is also some touch up work to be done, including installing a ramp to access the play area.
A handicap accessible swing from the current playground equipment there is being moved to Atlantic Avenue, to the last city park without any such equipment.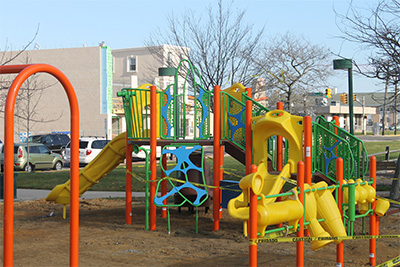 The city will be covering up the old playground area with sod, expanding the space that concert goers have for the special events held in West End Park.