Investigators are seeking assistance from the public to help identify the suspect in an armed bank robbery in Eatontown, announced Monmouth County Prosecutor Christopher J. Gramiccioni.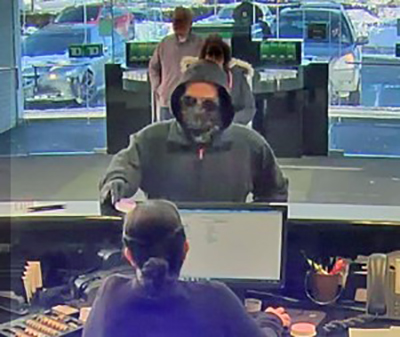 Investigators are releasing two photographs taken from surveillance video captured of the bank robbery.
The suspect entered the TD Bank, located at the intersection of Wyckoff Road and Route 36 in Eatontown, on Friday, Jan. 5,  about 2:38 p.m. and passed a note to a teller that indicated he was armed with a gun. The teller handed the suspect an undisclosed amount of cash before the suspect walked out of the bank and ran in the general direction of the Laurel Garden Apartments.
The suspect is described as a white male, wearing a blue/grey scarf wrapped around his face, a heavy grey jacket with a grey hooded sweatshirt underneath with the hood up.  He had on sunglasses and gloves.
Anyone with information is urged to contact Detective Wayne Raynor, of the Monmouth County Prosecutor's Office, at 732-547-3949 or Detective Brett Paulus, of the Eatontown Police Department, at 732-389-7645.
Anyone who feels the need to remain anonymous but has information about a crime can contact Monmouth County Crime Stoppers confidential telephone tip-line by calling 1-800-671-4400; can text "MONMOUTH" plus their tip to 274637; or, they can email a tip via the website at www.monmouthcountycrimestoppers.com.  Monmouth County Crime Stoppers will pay up to $5,000 for information leading to the arrest of criminals and fugitives.