West Long Branch — Monday, October 1st began as a normal school day for the students at Saint Jerome School, West Long Branch. However before the day ended, the U.S. Secretary of Education, Betsy DeVos, made an announcement — Saint Jerome had been designated one of only 49 private/parochial schools in the United States to receive the coveted National Blue Ribbon School award.
On November 7 and 8, the Secretary and the Department of Education celebrated the honorees at an awards ceremony in Washington D.C.
In announcing the award via a video message,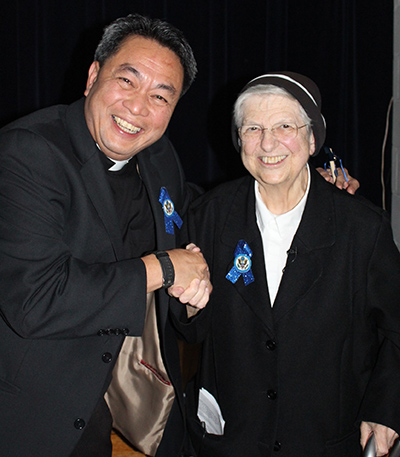 Secretary DeVos stated, "We recognize and honor your important work in preparing students for successful careers and meaningful lives. Congratulations on your students' accomplishments and for your extraordinary commitment to meeting unique needs."
Saint Jerome has been designated an exemplary high performing school as measured by nationally normed tests.
Saint Jerome School was founded in 1955 and has a long history of academic excellence and moral development. Graduates have excelled in secondary education and college, and have experienced great success in their chosen professions.
Since its founding, Saint Jerome School has been fortunate to have the leadership of the Religious Teachers Filippini. Sister Angelina Pelliccia has been the school principal for over 30 years. In recognizing the work of Sister Angelina, JoAnn Tier, Superintendent of Catholic Schools for the Diocese of Trenton, said concerning the award, "Achieving this recognition involves a community of learners and leaders."
Tier pointed out that education is a partnership among pastors, principals, teachers, parents and students. The students accepted the challenge toward personal growth with diligence and persistence.
Saint Jerome has a strong academic program emphasizing critical thinking and creative expression. The development of these skills plays a significant role in helping students make meaningful life choices. But the school's philosophy goes beyond academics. It emphasizes the love of God, neighbor and country, brought about by self-respect and respect for others, and understanding personal responsibility.
More information about Saint Jerome School is available on their website, www.saintjeromeschool.­org, or you can visit them on Facebook and Twitter.