FREEHOLD – A Long Branch police officer is facing charges of Criminal Sexual Contact and Harassment stemming from an incident at a police promotions party at a city bar, announced Monmouth County Prosecutor Christopher J. Gramiccioni.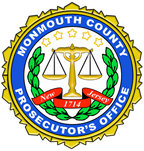 Long Branch Police Officer Patrick D. Joyce, Jr., 35, of West Long Branch and a 12-year veteran of the Long Branch Police Department, is charged with fourth-degree Criminal Sexual Contact and Harassment, a petty disorderly persons offense.
The charges stem from an incident at Jack's Goal Line Stand, a city bar where a private party was hosted following the promotion of four city police officers, on Friday, Feb. 1, 2019. It is alleged that at the private party Joyce inappropriately touched a 21-year-old woman, who is a family member of a retired Long Branch police officer, without her consent for his own sexual arousal or gratification.
As a result of these charges, Joyce has been suspended by the Long Branch Police Department.
Joyce is scheduled to make his first appearance in Monmouth County Superior Court on March 15, 2019.
If convicted of Criminal Sexual Contact, Joyce faces up to 18 months in state prison.
If convicted of Harassment, Joyce faces up to 30 days in the county jail.
The case is assigned to Monmouth County Assistant Prosecutor Melanie Falco, Director of the Office's Professional Responsibilities and Bias Crime Unit.
Joyce is represented by Robert Norton, Esq., of Westfield.
Despite these charges, every defendant is presumed innocent, unless and until found guilty beyond a reasonable doubt, following a trial at which the defendant has all of the trial rights guaranteed by the U.S. Constitution and State law.
The Link News learned that one day after the incident became public, Joyce was driven to the airport and is current in Florida in a rehabilitation program. Joyce also leads Monmouth County in use of force complaints and is number four in the state overall.
He has a past history of issues going all the way back to his time as a recruit in the police academy. Most recently he was one of the officers accused of sleeping and tampering with the GPS unit in a marked police car. Several years ago he was involved in a fight while off duty at a bar and fractured an individual's jaw. As a result of that fight he was suspended for a year. He was also stabbed last year while off duty, saying someone jumped him.
However, he was also decorated with several department awards for outstanding work and stopping a stabbing.