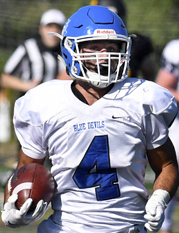 By Walter J. O'Neill, Jr
Many didn't think the 2020 football season would kick off during the pandemic. However, the NJSIAA along with the Shore Conference came up with a plan that has allowed teams to get on the field and play. The Shore Conference has eliminated the divisions, and are scheduling schools based on geographic location. At the end of the regular season, a postseason will be contested, but they are not calling it playoffs.
Saturday, October 3, the Falcons of Monmouth Regional hosted the Blue Devils of Shore Regional to start the season. Dan Wendel, who is in his second season as head coach, said he has many starters from last year returning. Monmouth Regional had a tough 2019 season as they went 0-9. "We have nine starters from the offensive side of the ball returning and seven on the defensive side. They all have something to prove as a result of last year," said Wendel.

VOTE! Long Branch Board of Ed
Shore Regional also enters this season after a disappointing 2019 year. The Blue Devils finished 4-6 in 2019 after having a good start but falling victim to injuries. Mark Costantino is in his twenty-ninth season as the Devils head coach. "As a small Group 1 program, we don't have the numbers of athletes as the bigger schools have. A majority of our players never leave the field as they play on special teams, offense and defense," said Costantino. After starting strong last year a few of his skilled players went down with injuries and the team suffered.
Refuel after the game at Scala's Pizzeria
A new wrinkle for the Blue Devils this year is a passing game. They have been known as a power running team as they use the Delaware Wing-T offensive set. However, with Mike McGhee as the quarterback this year Shore has an air attack.
During the first quarter of action the Blue Devils took a 14-0 lead on Monmouth Regional. During the second quarter they added an additional 13 points and only gave up 6. The third quarter was scoreless and Shore added 8 in the fourth and won the game 34-8.
McGhee completed 5 of 10 passes for 67 yards and one touchdown. On the ground, Shane McLaughlin, senior running back, racked up 114 yards on 12 carries. He also had two touchdowns and one interception.
Shore Regional sophomore Torin Harmon also had a big game. He had three rushes for 44 yards, and scored on a two-point conversion. He also returned a kickoff 94 yards untouched for a touchdown. "We are happy winning the first game. We had a great week of practice, still need to improve in so many areas," said Costantino. He added that Monmouth Regional is a much improved team and was able to move the ball on the Devils.
Yassin Moore, the senior quarterback for the Falcons, completed seven of 17 passes for 128 yards. He was also picked off twice by the Devils. On the ground, he ran the ball 12 times for 89 yards and the only Monmouth Regional touchdown. Keontae Wiggins had 13 touches for Monmouth Regional and finished with 68 yards.
Monmouth Regional will host Keyport on Saturday, October 10, at noon.
Shore Regional will host Barnegat on Friday night, October 9, at 7:00 p.m.