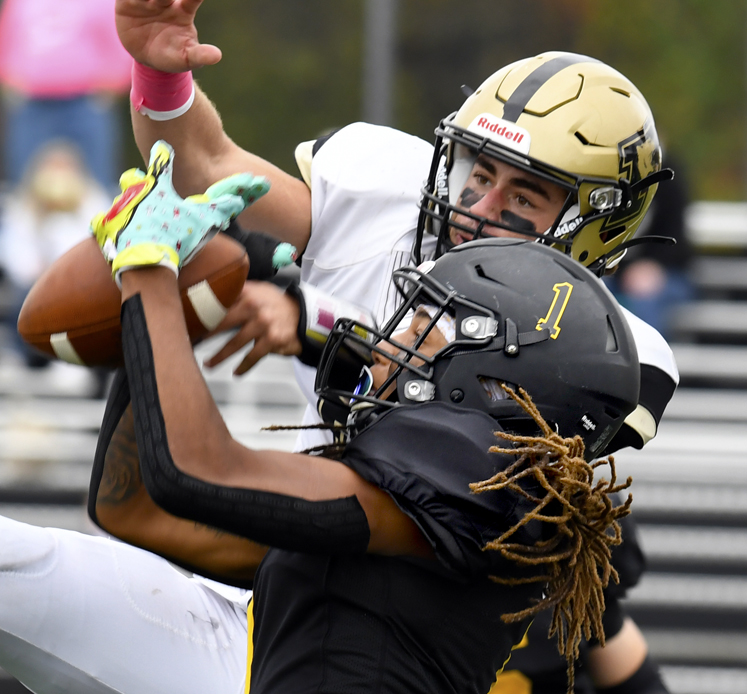 By Walter J. O'Neill, Jr
October 24, 2020
The first three quarters of football at Monmouth Regional High School were very exciting. The Falcons hosted the Panthers of Point Boro in their last regular season game on Saturday afternoon. It was a back and forth game and going into the final quarter the score was deadlocked at 20.
Monmouth Regional however imploded during those final minutes of action. Point Boro scored 21 unanswered points, the first occurred with 6:30 to play in the game. After the Panthers kicked off the Falcons were deep in their end of the field.
Anthony Jehn, sophomore, took over the starting quarterback duties as Yassin Moore had a broken throwing hand, and was playing receiver on offense. With 5:19 to play Jehn was hit in his own end zone, fumbled and the Panthers recovered for a touchdown. They were up 34-20 over Monmouth Regional.
Point Boro scored another touchdown with 3:39 left to play. This was a 60-yard interception return giving the Panthers a 41-20 lead and eventual final score. Panthers scored 21 points in three minutes.
Keontae Wiggins, senior running back, finished the game with 142 all-purpose yards. He also scored two touchdowns for the Falcons and his longest run of the day was 63-yards. "We need to change the attitude here at Monmouth Regional. We can't accept losing and I am doing my best to help our team win," Wiggins said after scoring his second touchdown.
Jehn completed 9 of 17 passes for 88-total yards. He completed one pass to Moore for a touchdown that tied the game at 20 late in the third quarter. Jehn was also picked off twice.
Moore, who usually directs the Falcons offense, rushed for 39 yards and had 39 yards in receptions. He also had three solo tackles and one hit that caused a Panther to fumble which the Falcons recovered. He was not done as he is the Monmouth Regional punter, and kicked it twice in the game for a total of 78 yards.
With the loss, Monmouth Regional drops to 1-3 on the season. It was also the last regular season game to be played in Tinton Falls this season. Mischief Night the Falcons will travel to Bernards (3-1) for a 7:00 p.m. game.
The last game of the season is set for November 7, for a game at Colts Neck, who are currently undefeated, with a noon start.
This season the Falcons have scored 76 points and have given up 111-points.
Click on photos to see captions