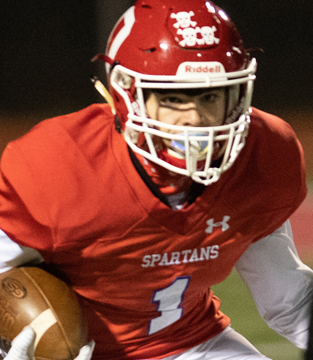 By Walter J. O'Neill, Jr
November 30, 2020
On -Mischief Night the 1-2 Spartans of Ocean Township hosted the 3-1 Lancers of St. John Vianney. After four quarters of football, the home team walked away with a 17-10 upset victory.
Last season was arguably one of the best in Spartan history. They finished 8-1 and had the best overall player in the Shore Conference with Trebor Pena, who rushed for 1,550 yards, had 19 touchdowns and averaged 11.4 yards per-touch. On the defensive side of the ball, he had 66 solo tackles and picked off six passes playing safety.
Head coach Don Klein had his work cut out for him this season in finding a replacement to the production of Pena.
Sips/Ace Hardware – The Helpful Place
In his 14 years as head coach Klein has had several outstanding individual players, but knows the strength of the program is in the team approach. That is exactly what they did on Friday night as they defeated St. John Vianney, a program that has long been a powerhouse within the Shore Conference.
The team approach had four Spartans rushing for double digits. Christian LaRosa had 13 touches for 61 yards. CJ Flannigan had six carries going 44 yards, Chris Carasia also had six rushes for 42 yards and Tyler Douglas, sophomore quarterback, ran the ball four times getting 25 yards. He also completed 6 of 9 passes for 62 yards. Carasia was the main target for Douglas as he caught five passes for 56 yards.
Gladstone Advisors – Checkups are good for your financial health
Defensively, Johnny Aldarelli, who had seven solo tackles for a loss and sacked the Lancers quarterback, led Ocean. He also had a tremendous hit causing a fumble that was recovered by Flannigan. Anthony Pontecorvo also forced a fumble, which was picked up by Austin Canavan. Evan Peters, with his glue-like hands, picked off a St. John Vianney pass for an interception.
Douglas not only directed the offense, he also kicked a 40-yard field goal as time expired in the first half giving Ocean a 10-7 lead going into the halftime break. The Spartans liked to take it down to the last possible minute during the game.
Flowers by Van Brunt "When ordinary just isn't good enough"
"Chris Carasia scored on an outside run with just over a minute left in the game from 10-yards out," said Klein. That touchdown was set up by a 38-yard pass play from Douglas to Carasia with 2:12 left to play. "This was an awesome win for the program. This was a community win, a program win, a team win. Very proud of how hard our kids competed and how we are beginning to develop an identity as a football team," he said
Ocean will travel to Rumson Fair-Haven on November 6, where they will face the Bulldogs, who are currently ranked fifth in the Shore Conference top 10 teams.
Click on photos for captions