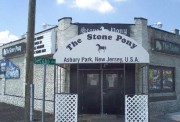 Asbury Park's The Stone Pony and Senator Vin Gopal's Civic Association have teamed up to support the Jersey Shore music and art industry with a virtual benefit concert, Asbury Band Aid. Proceeds from Asbury Band Aid have been awarded in Micro Grants to local artists, musicians, and other industry leaders.
Asbury Band Aid's sponsors include Tito's, JCP&L, Pepsi, Truly, Grunin Foundation, Horizon, NJ Resources, Monmouth Park, and CLB Partners.
Those in the Jersey Shore music and art community who have been impacted by the shutdowns caused by the Covid-19 pandemic were strongly encouraged to apply for the grant.  Grant recipients who will receive include:
Anthony Krizan, Anthony Xerri, ASK NJ, B Street Band, Beach Rats, Billy Walton Band, Bob Polding Band, Bobby Mahoney and the Seventh Son, Brian Kirk & The Jerks, Cary Smith, Chris Bruno, Colossal Street Jam, Conor Quigley, Daniel Apy, Des and the Swagmatics, Dentist, Eddie Testa, Emily Grove, Eric Robertshaw, Francis Valentino, Jarod Clemeons and the Late Night, Jen Hamptom, Jess Alaimo, Jobonanno & Godsons of Soul, Joe Boris from One-Eyed Jack, John Acara, Kelly Shaunessy, Levy & The Oaks, Melissa Keeling, Michelle Knox, Moroccan Sheephearders, Pat Guadagno and Richie Blackwell, Pat Roddy, Rachel Dobken, Roshane Karunaratne, Shady Street Show Band, Splintered Sunlight, stillhungry, Stringbean and the Boardwalk Social Club, Tangiers Blues Band with Danny Clinch, Tara Dente, The Weeklings, Waiting on Mongo, Waynard Scheller, Well Wisher, William's Honor, The Wright Trio, and Asbury Park African-American Music Project.
Asbury Band Aid is streaming on AsburyBandAid.com, Facebook, Vimeo, and YouTube. Visit AsburyBandAid.com for more details.