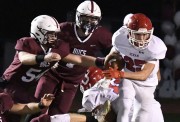 By Walter J. O'Neill, Jr
September 24, 2021 – It was Friday night lights out for the Spartans of Ocean Township who traveled to Red Bank Regional High School for a Constitution Divisional football game. It was an easy 28-6 win for the Bucs, who are now 2-2 on the season.
Shane Fallon, who was the head coach at Rumson Fair-Haven and helped create the Bulldogs dominance, is now in his rookie season as the Buccaneers head coach. Last season RBR finished 2-4, and this year they have a winning attitude.
For most of the first half the Spartans and Bucs played between the 30-yard lines. With 1:01 left in the first half, Pierce Olsen, junior quarterback at Red Bank Regional, connected on a 31-yard pass to Lamar Hicks who rumbled in for the first score of the night.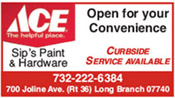 Ocean came right back at the Bucs. Junior quarterback Tyler Douglas engineered a great drive that was capped off with 11 seconds remaining in the half as he flipped into the end zone for a touchdown. The extra point was no good, and Red Bank Regional had a 7-6 lead into the break.
RBR started the second half with five-yard touchdown run by sophomore Jah'Cire Jones. With 5:03 left in the third quarter the Bucs were up 14-6 on Ocean.
The Spartans fumbled on their next possession, Colin Swords of Red Bank Regional recovered the ball and ran to the Ocean 29-yard line. One play later, Gunnar Eckerstorm ran in for another Bucs touchdown. With 4:20 left in the third quarter they were up 21-6 on the Spartans. The final score was a run by Cian Curylo, senior at RBR.
With the 28-6 loss the Spartans fall to 0-4 on the season. Ocean has a very difficult schedule. They opened with a 28-27 loss to Matawan, then fell 24-20 to Raritan, and Manasquan had a 38-7 win and now the 28-6 loss to Red Bank Regional.
Ocean's remaining schedule:
10-01-21 at Brick Township 7:00 p.m.
10-08-21 RBC at Ocean 7:00 p.m.
10-15-21 at Long Branch 7:00 p.m.
Red Bank Regional remaining games
10-01-21 at RBC 7:00 p.m.
10-08-21 at Raritan 7:00 p.m.
10-15-21 Matawan at RBR 7:00 p.m.
11-25-21 at Long Branch 10:30 a.m.
Click on the photos for captions