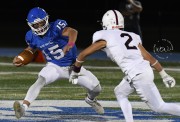 By Walter J. O'Neill, Jr. October 22, 2021 – Shore Regional High School senior Jamie Mazzacco put on a magnificent show on Friday night as he led the Blue Devils over the visiting Bucs of Red Bank Regional, 23-8. Mazzacco played quarterback completing 5 of 8 passes for 91 yards. He ran the ball 22 times for 112 yards and two touchdowns, and also kicked a 28-yard field goal. That was just his offensive contributions.
On defense, Mazzacco plays linebacker and had three solo tackles, assisted on four, and had one interception in the win over Red Bank. Also having a big defensive game was Jackson Whitacre, a 6'3" and 210-pound sophomore defensive end who had a three sacks, five solo tackles and assisted on four.
Offensively the Blue Devils had 317 total yards, with 91 in the air and 226 on the ground. Red Bank Regional had an impressive air game with 188-passing yards. However, on the ground they were held to 49 rushing yards by the Shore defense.
With the victory, Shore improved to 6-1 on the season. Their only loss, 34-20, was on opening night at Point Pleasant Boro. Since that game Shore has outscored their opponents 165-46. That places the Blue Devils in second place in the Patriot Division, behind the undefeated squad from Pt. Boro and ahead of Asbury Park, Barnegat, Manchester and Jackson Liberty.
Looking at the entire Shore Conference standings in regard to overall records, Red Bank Catholic is at the top with a perfect 8-0 record. They are followed by Long Branch, who also is unbeaten at 6-0, then Point Boro at 6-1, Rumson Fair-Haven at 6-1 and the Blue Devils of Shore at 6-1.
Marc Costantino is in his 30th season as head coach of the Blue Devils. He has a 197-106-1 record, and has constantly had the Blue Devils as a competitive team. "Team played hard, sloppy at times, have to tighten up for the playoffs," said Costantino. The win was the first of the two Shore Conference Pod games that are played at the end of the season. "Overall very happy with the team performance. We have Raritan next week at on their field." Raritan is 3-4 on the season.
Also having a great night on the offensive side of the ball for Shore was senior Andrew Decker, who had 54-rushing yards on 10 touches. Patrick Kelly, senior, rushed the ball five times for 49 yards. Sophomore Lucas White scored on a 12-yard run in the fourth quarter. Aidan Scaturro, senior, had one catch for 57 yards, White had three receptions for 21 yards and Mike Furlong, junior, had one catch for 13 yards.
Liam Rosa, senior middle linebacker, had a sack and three tackles, senior Alex Kramer had an interception and two tackles for the Blue Devils.
Click the photo for captions.
Additional photos will be posted at www.Facebook.com/TheLinkSports