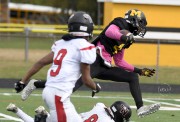 By Walter J. O'Neill, Jr.
October 30, 2021
Monmouth Regional High School hosted Neptune on Saturday afternoon for a nondivisional Shore Conference football game. It has been a great season for the Falcons who are having their best record in 15 years winning the National division.
However, it was career day for Neptune High School sophomore running back DaVon Craft, who burned the Falcons for 267-rushing yards on 28 carries. He also ran for three of the Neptune touchdowns in the 34-18 win over Monmouth Regional.
The inconsistent Neptune team has not been having such a great season, and with this win they improve to 3-4 on the season. The Fliers play in the Liberty division and are currently in third position out of the five teams.
The loss drops Monmouth Regional to 6-3 overall. There were many opportunities that the Falcons just didn't capitalize on. In the first quarter with a fourth and nine at the Fliers 18, Monmouth Regional was unable to convert.
Neptune had a third and goal at the Falcons six-yard line and completed the pass for their first touchdown. They missed the 2-point conversion. With 48 seconds left in the first quarter the Fliers had a 6-0 lead.
Monmouth Regional had another fourth down and nine at the Neptune 17 and did not convert. Neptune then drove to the Falcons 13-yard line and had a fourth and four with 7 seconds left in the first half. Falcons defense did their job and sacked the Fliers quarterback for a loss and the first half ended with Neptune up 6-0.
With 8:53 left in the third quarter, Neptune scored on a 10-yard run. They missed the two-point conversion, but now had a 12-0 lead on Monmouth Regional.
Monmouth Regional had another fourth down attempt they failed to convert. This time they were on the Fliers 23 with a fourth and five, Neptune held and took over on downs. The Fliers didn't take long to score as they took off on a 77-yard run with 4:52 left in the third they were up 20-0. The two-point conversion failed.
With just over two minutes left in the third quarter, Jones powered his way into the Scarlet Fliers end zone from two yards out. At the end of three quarters Neptune was up 20-6.
Early in the fourth quarter, Neptune punted from their own 26 into a strong wind, and Monmouth Regional fielded the ball on the Fliers 23-yard line. It was a three-yard punt. With 5:53 to play, Jenn found Ta'haj Wiggins open for a 23-yard touchdown. Monmouth Regional was now down 20-12.
Neptune then scored on a 43-yard untouched run with 4:48 to play. They were now up 28-12.
Jenn was intercepted on the Falcons next series. Neptune now had a first and ten at the Falcons 37. Fliers moved the ball to the Falcons 17, when they ran in untouched for a 34-12 lead with 2:46 to play.
With 58 seconds to play Jenn hit Wiggins for a 6-yard touchdown. The last score of the game. Neptune won 34-18.
A high point for Monmouth Regional in the opening quarter was junior running back Julian Jones,  who had surpassed the 1000-rushing yard mark for his three years on varsity. He finished the game with 114 yards on 19 touches and one touchdown.
Jenn completed 17 of 27 passes for 236 yards and had two touchdowns and one interception. Wiggins had five receptions for 116 yards and two touchdowns. Nick Huisman, junior, had four catches totaling 53 yards and Loukas Plasteras, senior, had 45 yards on four catches.
Defensively, Evan Booth, sophomore, and Eric Crossley, junior, each had seven solo tackles and assisted on two others. Monmouth Regional also had three sacks on the Neptune quarterback. Huisman, Crossley and Lucas Bomtempo all had a sack. Nelson Harris-Thomas had one interception for the Falcons.
Monmouth Regional qualified for the NJSIAA state playoffs. They are the eighth seed out of eight teams in the South Jersey, Group 2 bracket. November 5, they will travel to Point Pleasant Boro and take on the top seed Panthers.
Point Boro beat the Falcons 49-6 back on October 16, in Tinton Falls. The rest of the bracket has Willingboro as the second seed followed by Nottingham, Delaware Valley, New Providence, Haddon Heights, and Sterling as the seventh seed.
Click on the photo for captions.
Additional photos will be posted at www.Facebook.com/TheLinkSports