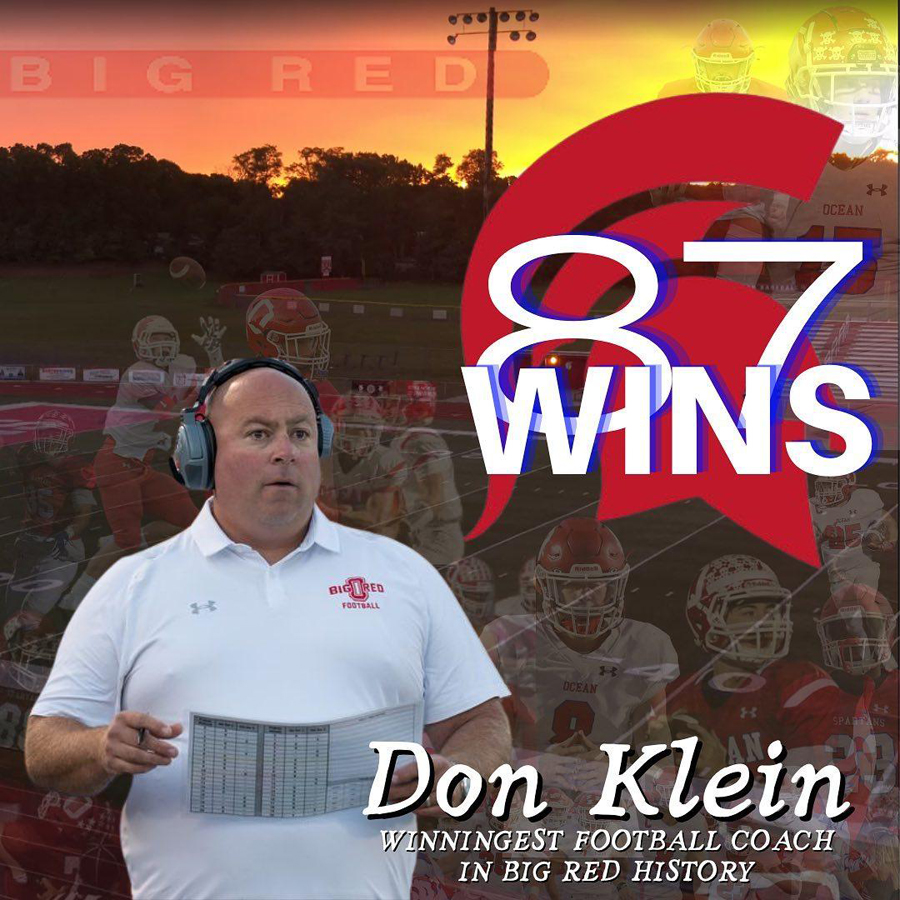 By Walter J. O'Neill, Jr. –  Photo from Ocean Township Booster Club on Twitter 
Ocean Township High School football which has a long history of being a competitive program had history made on Friday night. Spartans were in Brick Township as they were facing the Dragons in a Shore Conference Freedom Division game.
Spartans won the game 27-7 and improved to 6-0 overall and 4-0 in division games. Impressive, but that was not the record breaking news. It was the 87th career win for Spartan head coach Don Klein that put him in the record book for the most wins of any Ocean head coach.
"I am the eleventh head coach in the school's history," said Klein. He took over the program back in 2007, and is now in his 15th season. "The previous record of 86 wins was held by Coach George Conti, who was head coach for 12 years." Klein added that Conti is in both the Shore Conference and the NJ State Coaches halls of fame.
In high school, Klein was the quarterback for the Blue Devils of Shore Regional, which won a state championship during his 1997 senior year. Klein then attended Franklin and Marshall College where he played baseball and football. He earned his degree in 2001 and has been at Ocean Township High School.
"Holding the record is special, I'm happy for all the players and coaches that I have worked with and my family," said Klein. Many people don't understand the amount of time coaches put into game preparation. It is not only the physical practices or the weight room training, it's also the hours of watching game films of their opponents. "We prepare the team from day one of camp, and this year's group has done everything we have asked with energy and a positive mindset."
Looking back on his 87 wins over 15 years, Klein was asked if any team stood out. "Of course my championship teams obviously, but every team I've had has left a mark on the program and is special in their own way. The main thing that has been consistent each season is how we play," Klein said.
Ocean has two regular season games left on their schedule. They host Middletown North, a nondivisional opponent, on October 14, at 7:00 p.m., and its homecoming. The Lions are currently 3-2 on the season. The Spartans close out the season on October 21, when they host Red Bank Regional, who are in the Freedom Division and in second place behind Ocean at 3-1.