Hiya! I'm Mighty Max, resident Good Boy! This handsome 1 1/2 year-old, 39 pound pittie mix came into the shelter as a stray – I was so scared, skinny, and cold as I roamed the streets all alone. Thankfully I'm in the right place and all the attention I've gotten is helping me show off my 10/10 personality.
I'm a happy and active boy looking for a home with the best of both worlds – quiet relaxation and cozy comfort, as well as doing zoomies in the park, going for walks, playing with toys, and everything else dogs like me love to do!
I'm comfortable around adults and older kids who are comfortable with dogs. I've even made friends and played with many of the shelter's pups, so I could be looking for a compatible canine companion to settle down with too.
Interested in showing this pocket pittie what true love is? We are open for walk-ins every day, starting at noon!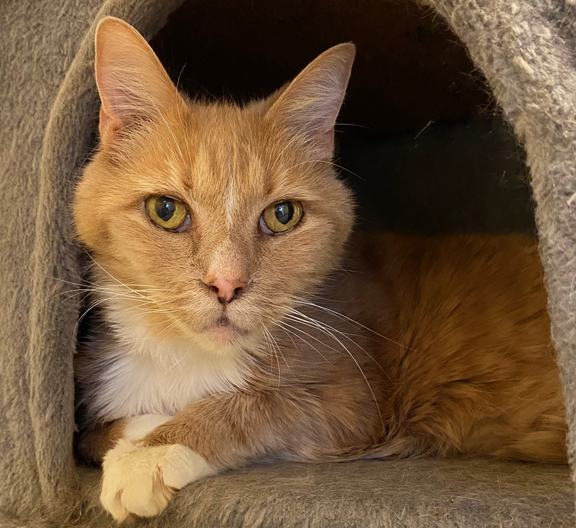 Reliable Rudy
, at your service! I came to the shelter after my owner had to move into assisted living. I didn't think I'd be looking for a new home at age 14, but I hope someone is looking out for a special boy like me!
The MCSPCA medical staff discovered I have Hyperthyroidism, meaning I have an overactive thyroid and require medication to regulate it. I take my meds very well in food (and they're cheap too), so as far as a cat with "issues" goes, I'm easy-peasy! The shelter staff will even give you some meds to get me started at home.
At first I was so scared I didn't even want to be touched. With a little time and a lot of love, I now actively seek out affection! I love being petted and dream of a family to relax and purr with. I even play as if I was much younger! Even though I lived with another cat before, I'd be much happier as your only pet. If someone out there happens to be chanting my name over and over, I'm your #1 teammate!