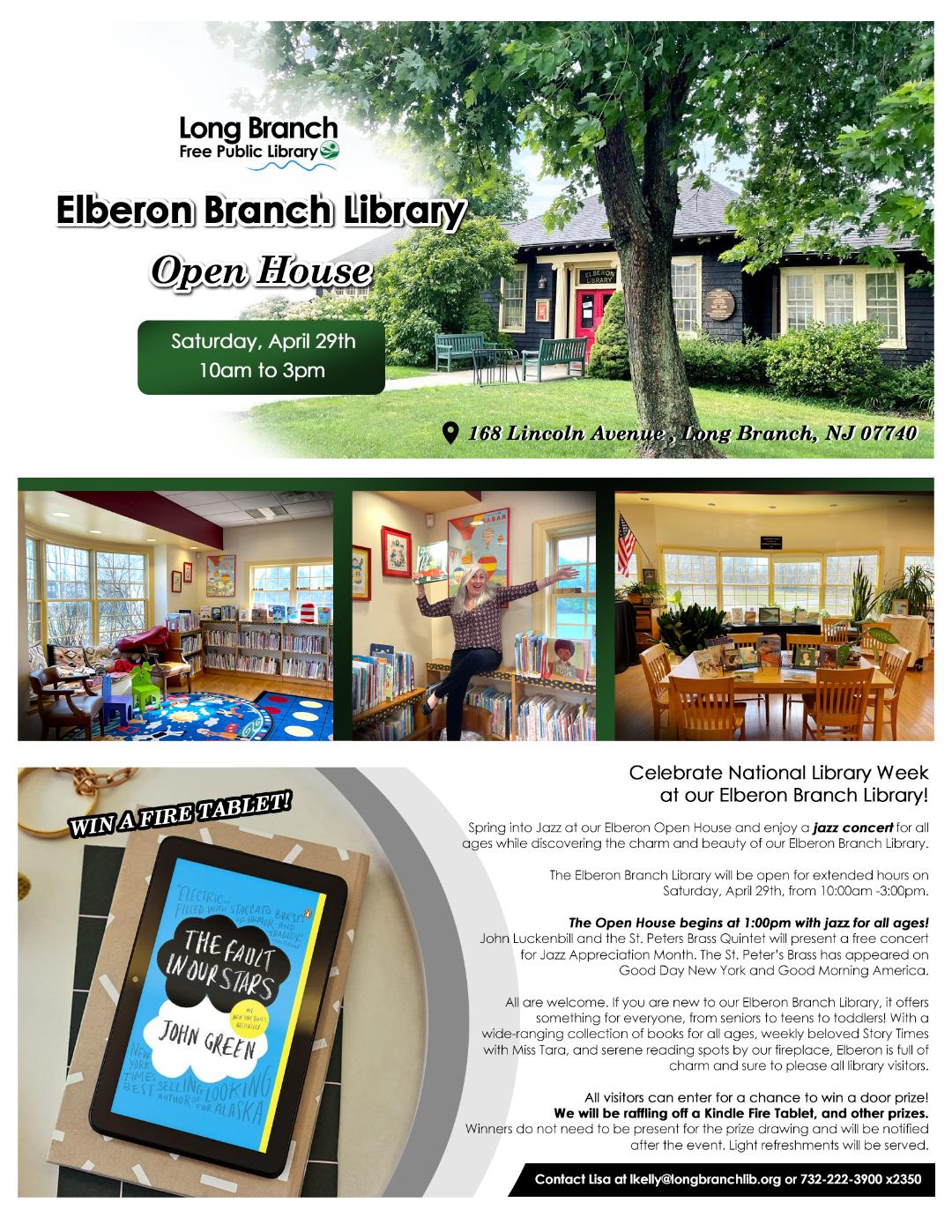 Spring into Jazz at our Elberon Open House and enjoy a jazz concert for all ages while discovering the charm and beauty of our Elberon Branch Library.
The Elberon Branch Library will be open for extended hours on Saturday, April 29th, from 10:00am – 3:00pm. The Open House begins at 1:00pm with jazz for all ages! John Luckenbill and the St. Peters Brass Quintet will present a free concert for Jazz Appreciation Month. The St. Peter's Brass has appeared on Good Day New York and Good Morning America. All are welcome.
If you are new to our Elberon Branch Library, it offers something for everyone, from seniors to teens to toddlers! With a wide-ranging collection of books for all ages, weekly beloved Story Times with Miss Tara, and serene reading spots by our fireplace, Elberon is full of charm and sure to please all library visitors.
All visitors can enter for a chance to win a door prize! We will be raffling off a Kindle Fire Tablet, and other prizes. Winners do not need to be present for the prize drawing and will be notified after the event. Light refreshments will be served.
National Library Week (April 23 – 29, 2023) is a time to celebrate our nation's libraries, library workers' contributions and promote library use and support. The theme for National Library Week 2023 is "There's More to the Story," illustrating the fact that in addition to the books in library collections, available in a variety of formats, libraries offer so much more. Library programming brings communities together for entertainment, education, and connection through book clubs, story times, movie nights, crafting classes, and lectures. And library infrastructure advances communities, providing internet and technology access, literacy skills, and support for businesses, job seekers, and entrepreneurs.
First celebrated in 1958, National Library Week is sponsored by the American Library Association (ALA) and observed in libraries across the country each April.
For more information please contact Lisa Kelly at 732-222-3900, Ext. 2350, or email Lkelly@longbranchlib.org.
The Elberon Branch Library is located at 168 Lincoln Avenue in Long Branch, next to the train station.