West Long Branch — For author Carey Wallace, book club members are an exceptional breed.
"Book clubs are made up of people who, despite all the demands, and noise, and hurry in life, still fight to make time to read — and not just to read, but to form a community of readers — to laugh and wonder and struggle and learn, together," Wallace notes on her webpage. "In other words, heroes."
Wallace will visit the heroic members of the West Long Branch Library Book Club on Thursday, Oct. 6 at 6:30 p.m., to discuss her debut novel, "The Blind Contessa's New Machine."  The talk is free and open to the public.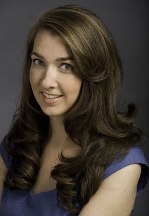 The novel is a romantic telling of the invention of the typewriter. Italian Contessa Carolina Fantoni is slowly losing her sight. No one takes her plight seriously – not even her aristocratic soon-to-be-husband – except for Turri, a neighbor she has been friends with since childhood.
Carolina's deteriorating sight inspires Turri to invent a machine she can use to write messages. This invention — a typewriter — leads to a romantic triangle with far-reaching consequences.
Wallace's novel is based on historic fact; The Italian Pellegrino Turri di Castelnuovo designed a typewriter for the blind Countessa Carolina Fantoni da Fivizzonno in the early 1800s. Her letters have been wonderfully well preserved.
"This is a work of surprising insight, humor, and heart," Publishers Weekly wrote in its review of the novel.
Carey Wallace currently lives and works in Brooklyn. She was raised in small towns in Michigan. Her work has appeared in Oasis, SPSM&H, Detroit's MetroTimes and quarrtsiluni, which she guest-edited in 2008.
She is a founder of the Working Artists Initiative for the International Arts Movement, which helps emerging artists establish strong creative habits; of the Zoae Series, a New York arts showcase which she directed until 2008; and of the event-based Lost City Gallery, which has connected young artists with patrons in both New York and Detroit.
For more information on the book club and Wallace's visit, call the West Long Branch Library at 732-222-5993. The library is located at 95 Poplar Avenue.
For more information on programming at the Monmouth County Library, visit the Library's website at  www.monmouthcountylib.org.