it tore the roof off an apartment building on Ocean Boulevard. Roofing materials including shingles, wood pieces, and insulation peppered the street in front of the rental units.
The tornado touched down just off the ocean proceeded northwest across Ocean Blvd across to Avery Avenue and then exited about half way between Ocean Boulevard an
d Second Avenue. Ocean Boulevard was closed for about an hour while road crews cleared downed trees at the intersection of Avery and Ocean.
UPDATE: 8/28/11 11:15AM – A Link investigation reveals the damage was caused by a tornado and not a micro-burst. The system came off the ocean by Vine Court ripping off the roof shingles and siding on 4 Vine Court moving Northwest dumping the items in front of 11 Vine Court where it blew out the windows, then turned directly west and taking the roof off of apartments at 519 Ocean Boulevard, then it turned right again North up Ocean Boulevard where it broke a power pole and took down a large tree, from there it turned left on Avery Avenue (West) where it exited between Ocean Boulevard and Second Avenue only to touch down again and cause some minor damage to Long Branch High School off Matilda Avenue.
A micro-burst is a straight line wind while a tornado has circular winds and a funnel cloud. This system zig zagged and also left debris not only direction of its forward movement, but also some behind and to the side of the damaged properties. Both are not typical of micro-bursts. There was also a v-shape cut into hedges off Avery where the bottom of the funnel cloud rose from the ground.
Mayor Adam Schneider and Councilwoman Kay Billings were out Sunday morning surveying the damage. Ocean Boulevard was still closed Sunday morning as power lines dangled precipitously by Passey Avenue across from the apartments.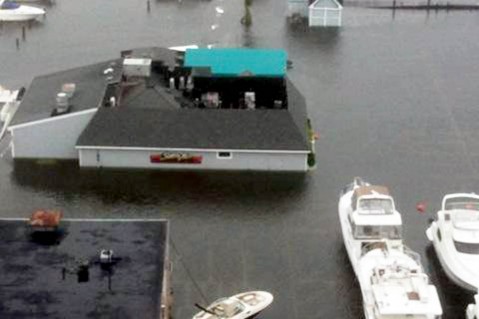 [gallery
]By Jonathan Weber – Hurricane Irene spun off a small tornado in West End, Long Branch at about 12:30am Sunday morning. In addition to splintering the top of a telephone pole and knocking it a kilter,