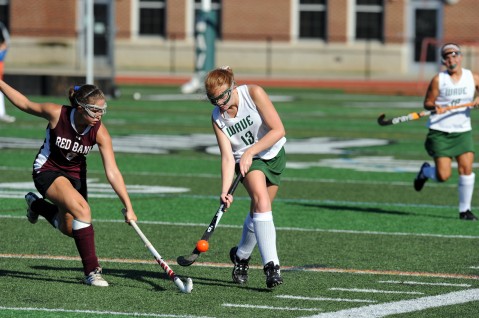 By Walter J. O'Neill, Jr.
Long Branch High School junior Jacinta Santos scored two goals on Friday afternoon and led the Green Wave to a 2-1 win over Red Bank Regional. Long Branch hosted the Bucs in a Shore Conference nondivisional field hockey game.
Santos scored the first goal at 17:43 off an assist from Rebecca Eberhardt, a senior midfielder. Red Bank Regional came back and scored a goal at 27:54 to even the sore. "Our defense did not get back fast enough on that goal," said Gina Keagle, head coach of the Wave
.
During the second half of play Santos scored her second and game-winning goal off an assist by Kim Davis at 52:42. Long Branch, for the most part, controlled the tempo of the game. They did something this preseason they have not done in years, and that was go undefeated.
"This is my fourth year as head coach," said Keagle. "I was an assistant coach for two years here in Long Branch." Her assistant coaches this year are Maria LaSalle, who is in her second season with the Green Wave, and Lisa Caprioni, who spent years as the head coach at Red Bank Catholic.
"Having Cap as an assistant coach has been very helpful because of her experience," said Keagle. All the Long Branch coaches credit the turnaround in the program on the girl's dedication to playing field hockey during the off season. "It makes a big difference when they want to work hard, change things around, and work as a team. Over the past couple of years you can really see and feel the growth of the team bond and the team work on and off the field."
The seniors on the Long Branch squad are Julia Zambrano and Kimberly Ging co-captains , and Vincenza Rego. All three girls are positive and dedicated players that have a contagious attitude according to Keagle. The coach credits both captains as team leaders. The junior standouts are Davis and Santos, along with Daisy Hoagland. "Last season Daisy and Rebecca did not see much action as they were injured. So this season we are excited to have them back to add to the depth of our team," said Keagle. The other juniors who will contribute this year are Jennifer Aleman, Amanda Conceicao, Cassidy Egan, Ana Frazao, Taylor Norman, Alissa Poppo, and Lizeth Raigosa.
The underclassman on the Long Branch varsity roster includes sophomores Christina Vieira, Alyssa Soden, and. Keagle is also excited about the crop of freshman making the squad for 2011. Those young players are Alexandra Conlon, Jamie Davis, Violet Hoagland, Ruby Liss, Ivanna Portill, Alexa Rodriguez, and Brianna Vieira.
On September 12, the Green Wave squad accomplished something they have not done in many years. They defeated the Caseys of Red Bank Catholic 1-0 on a goal by Eberhardt off an assist from Davis. It was also the first time that former head coach Caprioni returned to RBC. Long Branch is undefeated in their first two games.
For additional photos of this game please visit: www.oneillphotography.printroom.com