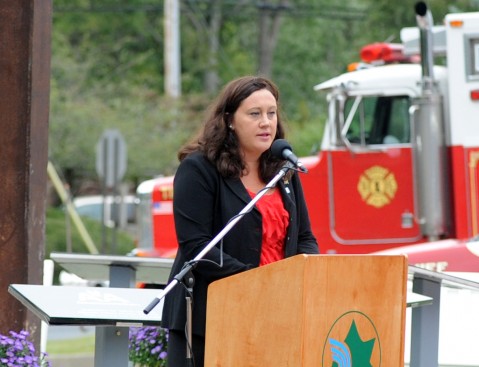 Monmouth County Assemblywoman Caroline Casagrande was named Legislator of the Year by the Constitutional Officers Association of New Jersey, or COANJ, at its 35th Annual Conference in Atlantic City on Thursday, September 15th.
Rita Marie Fulginiti, the COANJ President and Cape May County Clerk praised Casagrande for her ability to understand the role of County Clerks, Surrogates, Sheriffs and Registers of Deeds.

"She is responsive when we reach out to her with our concerns and that benefits citizens in all counties of New Jersey," Fulginiti said.
Casagrande, R-Monmouth and Mercer, was honored by the COANJ recognition and highlighted the efforts of Sheriff's Departments during the Hurricane Irene and commended the critical work of the County Clerks in maintaining the integrity of the election process. She also noted the essential services Surrogates and Registers of Deeds provide during critical points in a person's life.
"These public servants keep us safe, protect our democracy and uphold our property rights," Casagrande said. "They're also usually the most in-tuned with what legislators need to do to reduce the burden on property taxpayers."
Casagrande sponsored legislation establishing a real property tax assessment demonstration program and another bill making the absentee ballot system more efficient and fair.
"Those are just two examples of how county government can suggest ways to make their work more efficient and less expensive for property taxpayers," Casagrande said.
Senate President Stephen Sweeney was also honored and Casagrande thanked him for crossing party lines to enact historic public employee pension and benefits reform.
The COANJ was established in 1920 and is made up of the Sheriffs, County Clerks, Surrogates and Registers of Deeds and Mortgages elected directly by the people.