By Neil Schulman
Long Branch — A group of high school students from all over the county is helping out to ensure the Ride For Ronald McDonald House, a new fundraising bike ride and family event on Oct. 1, is a success.
Monica Labrecque, a junior at Red Bank Catholic, is the daughter of Christopher Labrecque, former Chair of the Ronald McDonald House of Long Branch and New Brunswick Board of Trustees.
"Ever since I was really little, my dad would take me to all the events," Monica said. She always got to see Ronald McDonald, a big treat for a small child.
"Because he's very involved in Ronald McDonald House, I just naturally wanted to get involved," she said.
Her father is also an avid bicyclist.
As a result, when she learned about the latest fundraiser for the RMH, which combines the two, she was eager to help out.
Monica, who would like to major in art in college, designed the logo for the Ride for Ronald, turning the Rs in the event's name into wheels on a bicycle.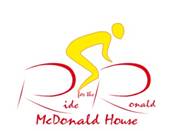 But she hasn't been alone. She's gathered some friends to help her along. Those include Rachel Andreas (BioTech/ Magnet school in Freehold), Jordan Barrett (Notre Dame HS/Lawerenceville),  Kelsey Bernarducci (Allied Health and Science/Magnet school in Neptune), Molly O'Neill (Ranney), and Taylor Veralli (Ranney).
The Link spoke with Rachel, Monica and Molly on Monday.
While they go to different high schools, they've been friends since fifth grade — some for even longer — when they met at Oak Hill Academy. They kept in touch after graduating.
Rachel said that the first time she tried to contact Monica was a little weird. She'd been assigned as her guide to the new school, and called to introduce herself.
"I got her answering machine — in French," she said. Monica's mother had made her record it in French to practice. Fortunately, Rachel understood enough to leave a message.
The girls have been busy spreading the word about the ride. Rachel has gotten e-mails distributed around all the Magnet schools in the county; Monica has gotten flyers around her school, and the others have also worked to get it advertised.
On October 1, they'll also be helping out. In addition to long bike rides — 15 to 62 miles — there is a bike rodeo for children, and many other activities. And Ronald McDonald will put in a guest appearance.
Monica will be doing face painting, something that she's done at other special events.
The others aren't sure what they'll be doing, but they'll be there.
"I'll help out wherever I'm needed," Rachel said.
This isn't the only activity that they're involved with. They've participated in the CROP Walk, which raises money for the hungry, for years. Molly has been involved in that since first grade, and is now on its Teen Leadership Committee.
Molly is also involved in plays and musicals at her school, and is in the Junior Humane Society.
Rachel is in the Concordia Youth Chorale, and has performed at places such as Carnegie Hall. She was in Long Branch this week, singing at the 125th anniversary celebration at St. Michael's Church.
The Ride For Ronald will be held at Seven Presidents Park. Registration starts at 7:30 a.m. The entry fee to ride is $35 (whether you are riding individually, or as a team). Children 12 and under are free. Those raising enough money get an official event jersey.
Bike Mechanics from The Peddler, Long Branch, will be available at the park. Snacks are provided along the routes, and bagels and coffee at registration.
For more information visit www.rmh-cnj.org, e-mail Nanette@rmh-cnj.org  or call 732-222-8755 x31.
Originally published Sept. 22, 2011