Long Branch — Mid Atlantic Food Distributors was fully engulfed in flames on Thursday night as firefighters from Long Branch and surrounding towns answered the call reported at 9:27pm.
It was the largest fire in Long Branch in a long time, the glow from the flames visible from miles around. People ran down the street trying to get a better look, and gathered outside police tape draped around a safe perimeter.
Some ran to the fire thinking it was Tuzzio's, Nunzio's or Tony's Pizza located in the same area.
Mid Atlantic Food Distributors is a family-run business located at 280 Westwood Ave., Long Branch, owned by Rudy D'Ambrisi. Renting space in the building are Cutler Produce and Thomas Imperato Foods. The fire started in the back of the building in the produce section which is constructed out of wood. It quickly spread throughout the building.
Firefighters fought to contain the blaze, but finally had to back away from the building due to the possibility of explosive canisters on the property.
Co-owner of Cutler Produce Ken Cutler and his wife Carol were devastated as they watched their "whole life go up in flames." They had owned the business for 15 years.
As the fire roared on West Ave., Cleveland and Westwood avenues were blocked off to traffic. Police were also taping off yards surrounding the Mid Atlantic Beef property to keep spectators and the press from getting too close. Although, inside the tape, families were watching the fire from their back decks.
At around 11pm Sgt. Robert Shamrock of the Long Branch Police Department reported that the fire was contained, "but not out."
As the fire was brought under control members of the fire department broke through the wooden section in the rear of the building looking for hot spots.
On Friday, the area was blocked off and still being checked for possible hot spots.
It was reported by an onlooker that just before the fire started a black pickup truck fled from the scene. The fire is considered suspicious and believed to have been arson.
D'Ambrisi, who also felt it was arson, watched the blaze take his life's work with his sons Tom and Rudy Jr. by his side. He said he is not going to let the incident end his family business. He has already rented space from Dutch Prime in Long Branch and plans to rebuild as soon as he can and get back to business as usual.
Visit The LINK News on Facebook to see videos of the fire, taken by Edward Thomas.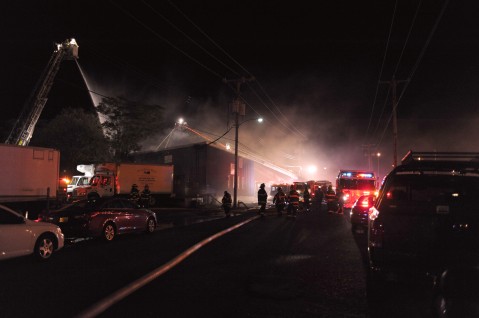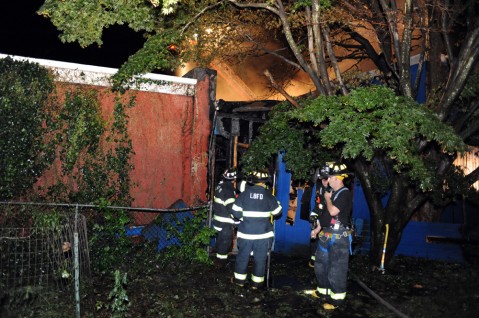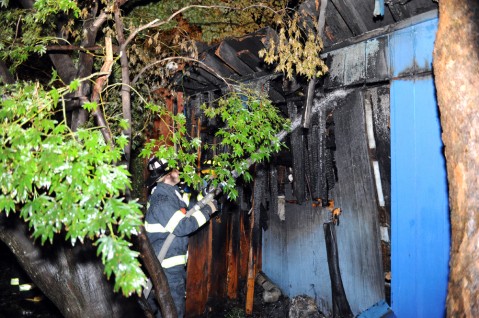 Firefighters break through the wooden wall of Cutler's Produce to check for hot spots.