Jenna Eustace, a sophomore, at Monmouth Regional, had one of those games on
Saturday morning that she will remember for a long time. The Falcons lacrosse
team hosted the Hornets of Holmdel in a nondivisional contest.

Monmouth Regional crushed Holmdel 11-5 and improved to 2-4 overall and 2-2 in the Class B
North division of the Shore Conference. Eustace led her Falcon squad with six
goals in the victory over the Hornets.

"Most of the first half we were in a low scoring tight game," said Jason Lerman, head coach of the Falcons. "We
were down 3-2 with five minutes left in the first half. Those last five minutes
we ended in a flurry scoring six unanswered goals until Holmdel scored with a
minute left to end the half 8-4."

Also getting goals for Monmouth were Alyssa DeOrio, Courtney Washeleski, Bri Wolff, Amer Calak and Mackenzie
Kapuscienski. A few Falcons also assisted on some of those goals, Calak had two
assists, Washeleski, Kapuscienski and Nicole Orr each had one assist.
"During the second half we showed great ball control, being patient and
controlling the game," said Lerman. "Jenna Eustace was a big part of the
offense, she scored six goals, three in each half." Jenna's last goal was the
100th of her career. "Although Jenna scored most of the goals, we had five
different girls score goals and five different girls with an assist." He said
that another big part of their win was due to Lissett Olivera making big save
after big save keeping them in the game early.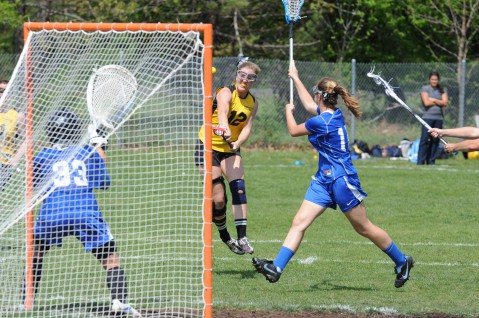 The Class B North division has Red Bank Catholic in first place undefeated at 8-0 overall and 5-0
in the division. They are followed by Ocean Township 3-5 overall and 3-2 in B
North, Monmouth Regional, then Neptune at 2-5 overall and 1-3 in the division
and the Green Wave in last place at 1-4 overall and 0-3 in division
action.
Visit www.oneillphotography.printroom.com for additional photos