This past weekend the varsity and junior varsity baseball players at Shore Regional High School decided to done their uniforms for something other than a Shore Conference game.

Over 35 youngsters ranging from age six to thirteen participated in the First Annual Shore Regional Baseball Youth Clinic. The Blue Devil players worked with groups of future baseball stars on all the fundamentals of the sport. Pat O'Neill, who is in his first year as head coach at Shore, decided to borrow the program from Ocean Township High School which has been doing it for years.

"The clinic is something that I wanted to implement into the baseball program," said O'Neill. "This year with the help of the Diamond Club we were able to accomplish it." The Diamond Club is an organization of parents of students who are playing baseball at Shore Regional High School.

The clinic was open to Little Leaguers from Oceanport, West Long Branch and Monmouth Beach. They participated in skill sessions which included pitching, hitting, bunting, fielding and base
running. "We were able to show them what the baseball program at Shore Regional High School is all about," said O'Neill. "It was also a great day for the current players to remember their youth. They did a terrific job working and coaching the kids today. It was hard to tell who enjoyed the day more."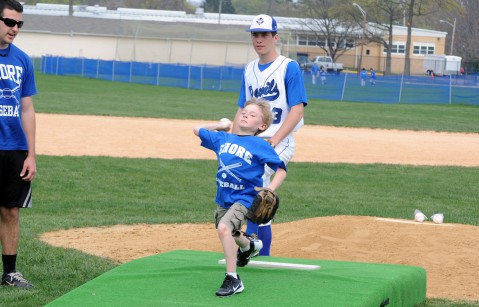 To see all the photos from that day please visit The Link News Facebook page: https://www.facebook.com/#!/pages/The-Link-News/213878801991332?sk=app_164350696923478
Kyle Crochet showing promise on the mound