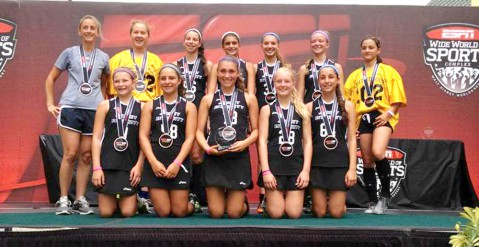 By Walter J. O'Neill, Jr.
We are all amazed when see athletes that demonstrate uncanny power, speed, agility and strength. In order to compete at such a high level and to be considered an elite athlete requires years of training and dedication.
Aristotle once said, "We are what we repeatedly do. Excellence, then, is not an act but a habit." And while most kids are enjoying their summer break, the athletes who want to succeed, and desire to become an elite athlete are working hard on their skills so it becomes routine.
Jersey Intensity Field Hockey is a program that's mission is to increase the overall skill level of play in middle school and high school athletes. They provide top level training, coaching all year-round. Kathleen Kelly, a former Division I college coach and four-time All-American from Princeton is the woman behind Jersey Intensity. She is assisted by all former D-1 all-stars, one of which is Kelly Monahan who took a group of middle school field hockey players last week to a national tournament at Disney Land.
Lily Croddick, Annie Deusch, Emma Downs, Sarah Dwyer, Erin Mcilhenny, Kelsey O'Neill, Jessica and Katelyn Pianko, Samantha Scire, Isabella Sierchio and Michaela Thompson were the girls representing Jersey Intensity U-14 at the Disney competition.
Over the three days of competition the girls played a total of nine games and played outstanding hockey. "We were in pool C of the Mickey Flight (tournament which had two flights, Mickey and Minnie). The first two days consisted of pool play," said Monahan.
All the games were 25-minutes in length and had seven players from each team going head-to-head. The first day of competition had Jersey Intensity and their first two opponents each getting one goal. Game one was against Saints FHC Rocks and game two the opponents were East End Lady Gems. It was the next two games were Jersey Intensity started getting into the winning groove. They defeated Strong Island Ripples 5-0 and then crushed Denver FHC Black 6-0 to end day one.
Three games were played on day two. The first was against Freedom Hockey who lost 2-0 to Jersey Intensity. Game two had Jersey Intensity beating Saints FHC Rocks 1-0. "We needed to win this game in order to be first in our pool," said Monahan. "They were a good team, but our girls went hard and won all 50/50 balls and that is what ultimately won this game."
Jersey Intensity was ranked first in their group and scored 16 goals while only allowing two. "We tied for the lowest amount in pool play for both Mickey and Minnie brackets for goals allowed," added Monahan.
Day two also featured the first crossover games of the tournament. "This was a must-win game for us if we wanted to compete for a medal," said Monahan. The team faced BCFHC St Storm and beat them 1-0. "The girls played with so much heart that I knew we were going to come out as the winner of this match."
The final four games were played on day three of the tournament. Jersey Intensity faced WVFHC Adanacs in the first game. "We scored first off a straight shot from the top, and then the Canadians came back and scored two goals," said Monahan. Jersey Intensity fought hard and tied it up with a tip off a straight shot on a corner. Then they scored the third and game-winning goal off a great tackle in the backfield. "Four great passes that lead to a cross and our forward was there to put it in the goal."
The championship game had Spirit USA and Jersey Intensity ending regulation play tied at zero. Rules then call for each team to send out three players for strokes, shot on goal. Spirit USA went 2-for-3, while Jersey Intensity only made one of their shots.
"Being the first outdoor tournament this team has played together, the girls played extremely hard and improved every game," said Monahan. The coach also praised the two goalkeepers with a phenomenal tournament coming up with big saves.