On October 3, 2012, Detective Philip Emanuele, an eight-year veteran of the Eatontown Police Department, pled guilty before the Honorable Thomas F. Scully, P.J.Cr., to an Accusation charging him with third degree Criminal Coercion and fourth degree Tampering with Physical Evidence. As part of his plea, Emanuele (age 33) was required to immediately forfeit his position as a police officer with the Eatontown Police Department; he is also barred from all future public employment in the State of New Jersey. At Emanuele's sentencing, which is scheduled for Friday, November 30, 2012, the State will also seek a probationary sentence, subject to certain conditions.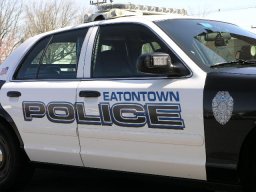 In March of 2012, the Professional Responsibility Unit of the Monmouth County Prosecutor's Office commenced an investigation following a complaint made by a 24-year-old woman concerning the actions of Eatontown Police Detective, Philip Emanuele. According to documents filed in the case, as well as Emanuele's statements made in court today before Judge Scully, on December 21, 2011, Emanuele responded to the Monmouth Mall in Eatontown following a complaint made by a Monmouth Mall store that one of their employees had stolen money from the store. Detective Emanuele placed the female employee under arrest and escorted her to the parking lot where he told her that he would help her in any way possible if she helped him. Once at the car, the woman turned over narcotics to the Detective, who then drove the woman to Eatontown Police headquarters.
At headquarters, Emanuele signed a theft complaint against the woman for stealing from her employer. He then flushed the drugs down the toilet and asked the woman if she would be willing to act as an informant for him. While driving the woman back to her car, Emanuele asked her to perform a sexual act upon him. She declined.
Emanuele met the woman on two subsequent occasions. On one of those occasions, Emanuele began kissing her with the hope and expectation that she would engage in sex with him, especially since her theft charge was still pending. On another occasion, Emanuele told the woman that he wanted to help her and said that he had contacted her former employer in an attempt to get her theft charge dismissed.
Emanuele was also charged in the Accusation, which is the functional equivalent of an Indictment, with two counts of Official Misconduct and one count of Sexual Assault. Those three charges will be dismissed at sentencing. Emanuele was suspended, without pay, by his department in June of 2012. He was making $114,712 a year at the time.
The plea agreement was entered into with the full knowledge and consent of the woman and her attorney. The case is being prosecuted by Assistant Prosecutor Gregory J. Schweers. The defendant is represented by Patrick Toscano, Esq., of Caldwell, New Jersey. Released: October 3, 2012.