Around Monmouth Beach
By Teja Anderson
When I got the mayor's email on Monday night that MB born and raised Red Sox Manager John Farrell was returning to town on a goodwill tour to visit places hit by Super Storm Sandy the very next night, Tuesday at the Parish Center at 5 p.m., I got a bit excited. I know this is Yankee/Mets territory and I am not even going to pretend that I am a huge baseball fan lest my husband roll his eyes, BUT, I was born in Boston and grew up in Vermont, and the closest teams we had to cheer for were the New England Patriots, the Boston Celtics and the Boston Red Sox.
I rushed to my computer and "googled" John Farrell. Yes, he was born and raised in MB, went to MB School and Shore Regional, was a starting pitcher for the Cleveland Indians, the California Angels and the Detroit Tigers, was the pitching coach for the Red Sox from 2007 (when they won the World Series) to 2010, then was the Manager of the Toronto Blue Jays from 2011-2012 until October 20, 2012 when he was named Manager of the Boston Red Sox!  Now I can feel the excitement building but also my nerves. Would there be other players there? Would I make a fool of myself by not knowing any of their names? Would they be in uniform? Would they need police protection in this Yankee blue town? Was my camera still broken?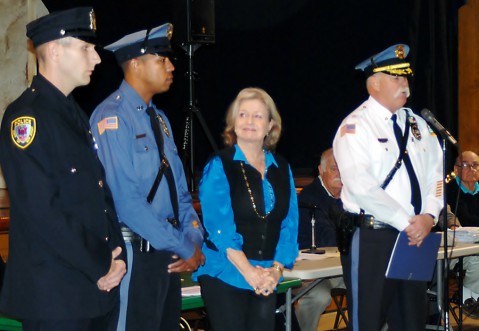 Fans young and old turn out for Local Red Sox manager John Farrell, his wife Sue and a bus load of 40 Red Sox personnel arrived in Union Beach Tuesday morning and worked all day raking through garbage, helping to recover lost wedding albums, photos, yearbooks, anything they could salvage from the wreckage there to return to their grateful owners before arriving at the Parish Center.  "How could I not come home? I grew up here, went to school here, my mom and my sister still live in town here. In fact, my mother is still displaced from the storm!" Farrell acknowledged. Farrell has many fond memories growing up in Monmouth Beach including working with his father Thomas, who played for the Cleveland Indians before becoming a commercial lobster fisherman out of Belmar and Belford.  His sisters Nancy Farrell Golden and Kathy Reilly remember him bounding down the stairs singing Credence Clearwater Revivals' "747 Coming Out of the Sky" at the top of his lungs and pal Gary Dunzelman recalls a flounder fishing trip that ended up with a boat full of water on an island with a good catch.   When Farrell first called the Church of the Precious Blood weeks ago to see what he and the Boston Red Sox Organization could do to help his home town of Monmouth Beach, he was told that most of the cleanup was done (thanks again to Al Miller and the PW gang) the holiday decorations were in place (thanks to J.E. Boehles and the Beautification Committee and again Al Miller) and that the town was in pretty good shape thanks to the leadership and organization of Mayor Sue Howard, Commissioners Jim Cunniff and Bill McBride, The Fire Company, the Police Department, the OEM and the First Aid Squad.  The one thing that Father Bob thought the town might need was a little spirit lifting in the form of a holiday party. The Sox team went to work; they got a huge tree from the MB Fire Company, lots of Christmas decorations and hired Jacques Catering of Hazlet to supply dinner for 150 (they ended up serving well over 200). If you build it they will come and with only a day's notice the Parish Center was packed with new fans, old fans, Red fans and Blue fans, Farrell's old friends and classmates, his family, all the town officials, the entire Police department — Wait! They weren't just there to see John Farrell.
Lt. Dennis Cahill promoted to captain This was also the long awaited, much anticipated night that Monmouth Beach's own Lt. Dennis Cahill was to be promoted to Captain at the Borough Hall meeting. If you thought the crowds of people had shown up only to see John Farrell you would have been wrong. After Farrell moved to an adjoining room to continue to sign autographs and take photos with his many fans the room remained packed.  Mayor Sue Howard introduced MB Police Chief Drew Winans who called up two more heroes in the room; Patrolmen Aaron Rock and Matthew Clark to receive Life Saving Awards. He also called up Diane Vanvliet, the wife of Bruce Vanvliet, the man they saved when he suffered a heart attack several months ago on the tennis courts of Big Monmouth.  It was an emotional moment for all of us as Diane hugged and presented each officer with their award. It was the third award of its kind for Rock and the second for Clark.  Then Lt. Dennis Cahill was called forward after Chief Winans credited him with "basically saving our lives on the evening of Sandy when he made the call to move police headquarters over to Borough Hall after taking a walk down Beach Road at 5:30 p.m. and seeing the storm surge" and Mayor Howard swore him in as Captain.  After thanking the town officials, the town and his department, Cahill thanked his daughters, acknowledging "that it wasn't easy for Kelsey and Kayla to grow up in a small town where their father was a cop; they weren't allowed out on Mischief Night, they couldn't stay up to watch the sunrise on the beach after eighth grade graduation and they were not allowed to hang out in the parks or on public property after dark!"  He also thanked his beloved wife Ellen for her understanding and support over the years. Cahill receiving the third standing ovation of the night (Farrell, Rock and Clark got the first two).
One Last (Sports) Hero Sighting As I arrived at Rooney's Oceanfront Restaurant for Captain Cahill's celebratory party, I noticed a large and very familiar person in the parking lot; Lawrence "LT" Taylor. Now I could pretend that I know all about him from football, but then again my husband would roll his eyes. I am pretty sure he played for the NY Giants. I am almost sure that my daughter was watching him in WaterBoy last week and I am definitely sure that I saw him on Dancing With the Stars not too long ago with that sexy Russian girl.  I also recalled once reading long ago that his neck size was bigger that my waist size at that time, but sadly I this was definitely no longer the case, and it didn't seem like a good opener anyhow.  But I had my camera and it was working and Dennis Cahill was just arriving; Photo Op! LT was very gracious and could not have been nicer and happier to pose with Dennis and his wife Ellen for me; in fact, he is in the area to help out with Super Storm Sandy Relief and the cleanup efforts. So many heroes in one evening, I was half expecting to run into Bruce on my way home…