By Patty Booth O'Neill
Photos by Jack Flaherty

Long Branch — To spot Mayor Adam Schneider strolling along the Long Branch boardwalk in 80 degree heat in a suit, onlookers had to think, something big is going on. And there was.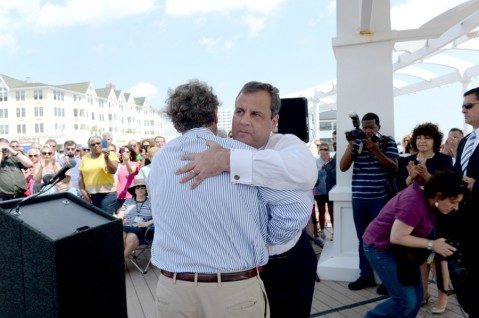 Even more miraculous than the suit, Schneider, a die-hard proud Democrat, was about to announce his endorsement for Republican Chris Christie in his sec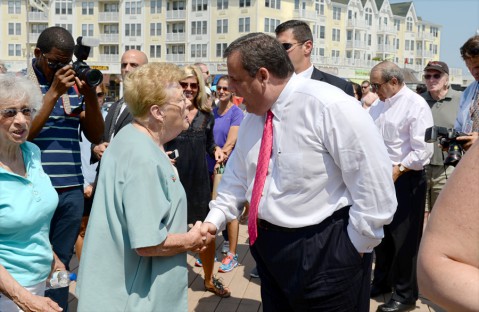 ond bid for Governor of New Jersey.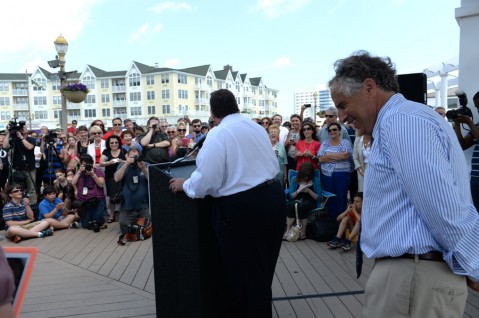 The Governor, too, was strolling along the boardwalk through Pier Village, shaking hands, saying hello and making his way to the podium where the announcement was about be made.
Before introducing the Governor, Schneider told the crowd how he came to his decision. "The governor had just taken on house Republicans for not passing the Sandy Aid Bill. And as the mayor of an oceanfront community who needed that help, I really appreciated it."
After Sandy Schneider was in a meeting with Chris Stark, a member of Christie's staff. Adam told him he was so impressed with how Christie handled the response of the Republicans and told Stark that he might even vote for him. "And Chris wrote it down," Adam said. "And I knew knew a meeting would take place between me and the Governor.
Schneider didn't take the decision to back Christie lightly and put the idea out there slowly before he made up his mind to endorse him. Some hard-core Democrats disagreed with Schneider and some said, "What are you waiting for?"
Schneider had called 30 or 45  Democrats and also made a call to Christie's opponent, Democratic Senator Barbara Buono. "Buono wasn't happy but she understood," Schneider said. And then a press conference was set up.
"What this state needs now is somebody who doesn't care about the next job, he cares about doing this job well. He's not concerned with what the national Republicans think, he cares about what the people in New Jersey need," Adam said to a round of applause. "He doesn't care if I'm a Democrat, he cares that I'm a Mayor that represents 40,000 people.
"Here I stand, a mayor just a couple of day short of 23 years, a Democrat who proudly voted for Barack Obama." That comment drew boos from the crowd. Schneider chided those people and said that this is about party lines that don't always matter. It's about getting the job done. "So I'm happy and proud to endorse for Governor, Governor Chris Christie."
"I want to thank Adam very much," Christie said as he approached the podium, and added that it was not an easy thing for Adam to do.
Christie said the fact is, after Sandy hit no one cared if the person helping them rebuild their business or their home, beaches  reopen their schools, clear the highways, turn on their power was a Republican or Democrat. "What they cared about was, could they get the job done for them that they were paying the them to do. And I take this endorsement from Adam as an endorsement for a job that we all did together to restore and rebuild our state and help our citizens recover, and that's why it's such a great day to be in Long Branch.
"My future is here in the state of New Jersey. I love being your governor and I want to be governor for another four years."
Christie said he wasn't asking anybody to switch political parties, but to vote for the best people. He told the crowd that by looking around at the beautiful things in Long Branch they can see all the great things that can be done by working together.
Christie said that nobody finds it easy to step across party lines, but they are encouraged to do so.
He said sarcastically that he loves people who criticize when you do so yet at the same time say they want bipartisanship.
Christie said that his government will bring everybody together who's willing to work together. And for those people who want to criticize a mayor like Adam or me for reaching across the aisle, here's my simple message to them, "You are yesterday and we are tomorrow."