3-on-3 Tournament scores for area youth
Rumson – The 12th annual Hoops for Horizons 3-on-3 basketball tournament will kick off at the Rumson Country Day School on Thursday, March 6 and run through Saturday, March 8 with all funds raised benefitting the Horizons Student Enrichment Program.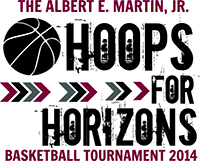 For a second year, the charity event will be held in honor of Albert E. Martin Jr., the Red Bank Regional basketball player who died suddenly in December 2012. A Horizons graduate, Albert played in the Hoops tournament every year to give back to the program that made a difference in his life.
According to Horizons Executive Director Lori Hohenleitner, nearly 200 basketball players of all ages played in last year's tournament, which raised nearly $75,000 for Horizons, a tremendous boost for a program which relies 100 percent on private funding.
"Last March, there was such an outpouring of support for Albert and Horizons, we've decided to expand the event to include an extra night of play and added some exciting new features, including a special guest speaker," said Hilary DiPiero, who is co-chairing the tournament with Donna Gibson for a second year.
These new additions to the tournament include Thursday evening games for fifth and sixth graders, a community fair on Saturday featuring exhibitors and vendors, and a not to be missed workshop with Bill Burke on Friday, March 7 at 6 p.m.
College basketball coach Bill Burke's presentation will cover basketball and life skills that apply long after the final buzzer rings.  Coach Burke's long basketball career includes time as Director of Basketball Operations at Iona College and at the University of Louisville, as well as time at Loyola College and Boston University.
All boys and girls fifth grade and up are welcome to participate in the Albert E. Martin Jr. Hoops for Horizons tournament. The competition begins at 4 p.m. on Thursday afternoon with fifth and sixth grade division. Play will continue on Friday with the girls seventh and eighth grade bracket at 3:30 p.m. followed by the high school/adults under-29 bracket in the early evening.
Hoops for Horizons will conclude on Saturday with the boys seventh and eighth grade and adult 30+ divisions.
There will be prizes for winning teams, chance auctions, a bake sale and snacks for purchase with all money raised to benefit Horizons' 2014 summer program and the local students who attend.
Horizons serves more than 135 at-risk children from Red Bank for six weeks every summer with additional programming throughout the year. The award-winning program fights against the educational achievement gap and works: on average, Horizons students gain three months in reading and math skills by the end of the summer.
With the help of nationally recognized teachers, volunteers and staff, Horizons provides more than 200 hours of educational and support services, recreation and swimming lessons, field trips, transportation and nutritious meals to each child. The National Summer Learning Association has named Horizons as one of the best summer learning programs in America.
Paul Campanella, Rumson Country Day School Athletics Director and Albert E. Martin, Jr. Hoops for Horizons Tournament Coordinator, said, "Last year's event was an incredible tribute to Albert Martin. There were more teams than ever before, and the participants played hard with team spirit and good sportsmanship. I hope more people will come out this year and continue to build momentum for the Hoops event and for Horizons."
To learn more on how to support the program, contact Horizons Executive Director Lori Hohenleitner at horizons@rcds.org or 917-715-7608. Registration and donation information also can be found at www.rcds.org/horizons.